»
»
Green Entrepreneurship Workshop: 10 March 2022
Green Entrepreneurship Workshop: 10 March 2022
Do you want to know how business can play a role in supporting young people and sustainable development? Join our Green Entrepreneurship Workshop Series to learn more from private enterprises and entrepreneurs.
The event, hosted by the Commission for Environmental Cooperation's EcoInnovation Network and UWaterloo's Environment @ Entrepreneurship Office, is offered free of charge to entrepreneurs interested in understanding how to integrate sustainability into their business models.
Supporting the next generation of business leaders is a 'win-win-win' solution for complex challenges related to climate change, employment, and business development. This workshop invites North American business leaders to share information, advice, and inspiring stories for youth entrepreneurs. Youth entrepreneurs are invited to this session to learn how to build strong relationships with business leaders in their fields and learn about the ways that established enterprises can support entrepreneurship.
You will hear from experts from across North America including:
Juan Del Cerro, CEO of SociaLab and Disruptivo, who specializes in youth entrepreneurship and skill building
Samira Khan, Microsoft, an intrapreneur passionate and social impact changemaker
Dr. Trevin Stratton, Deloitte, National Economic Advisory Leader and a Partner and an expert in economic thinking
Register now for the Green Entrepreneurship Workshop Series and view the complete agenda here.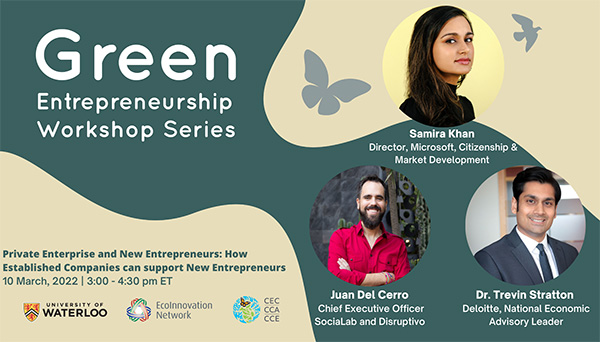 About the CEC
The Commission for Environmental Cooperation (CEC) was established in 1994 by the governments of Canada, Mexico and the United States through the North American Agreement on Environmental Cooperation, a parallel environmental agreement to NAFTA. As of 2020, the CEC is recognized and maintained by the Environmental Cooperation Agreement, in parallel with the new Free Trade Agreement of North America. The CEC brings together a wide range of stakeholders, including the general public, Indigenous people, youth, nongovernmental organizations, academia, and the business sector, to seek solutions to protect North America's shared environment while supporting sustainable development for the benefit of present and future generations
The CEC is governed and funded equally by the Government of Canada through Environment and Climate Change Canada, the Government of the United States of Mexico through the Secretaría de Medio Ambiente y Recursos Naturales, and the Government of the United States of America through the Environmental Protection Agency.