This year's Council session will focus on the role of youth within the work of the CEC, in particular, on ecosystems and climate change, and supporting sustainable communities.
The 9 September Council meeting will include a public town hall session on these topics, featuring the three environment ministers, CEC Executive Director César Rafael Chávez, and CEC Joint Public Advisory Committee (JPAC) Chair Lindsay Brumwell. During the Town Hall, the Council will answer questions from the public in-person and online through social media.
Registration of Participants
Presentation on the Biodiversity Strategy for the State of Yucatán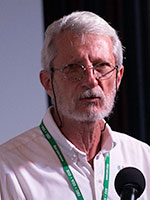 Networking Session for the Public: Youth and the environment in North America
Participants are invited to meet and exchange views on the topic of "Youth and the environment in North America," and identify three key questions concerning our region to be raised with the Ministers. They will appoint three representatives, one per country, who will make a brief intervention during the Council Town Hall that will take place in the afternoon.
12:00–13:30
Restaurant Peregrina Bistro