Restoring Ea
Organization: Mālama Loko Ea Foundation
Our mission is to perpetuate the Native Hawaiian culture through education, land stewardship, and community building, while sustainably restoring our precious natural resources.
Location: Hawaii, Oahu.
Communities directly affected by the project: Haleiwa, Waialua, Pupukea, Mokuleia, Kahuku, Wahiawa, Mililani.
Country: United States
Other Organizations Involved: I Nui Ke Aho—Navigation and traditional waʻa organization—Lawaiʻa Camp; Limu Hui—Studies and advocates for native limu (seaweed) as an ecological indicator/traditional food source; Honolulu City and County Office of Climate Change, Sustainability and Resiliency—working with a committee to create; Education Consultant— David Adler; Loko Iʻa Practitioner—Buddy Keala.
Active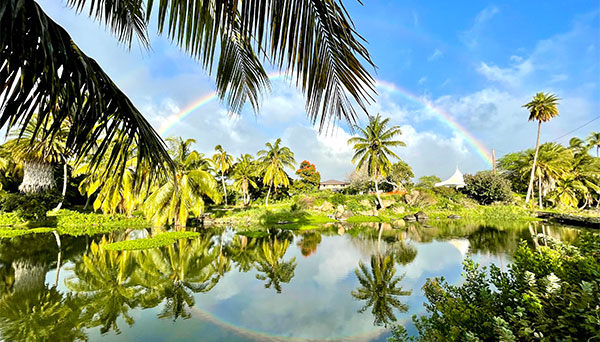 @ Mālama Loko Ea Foundation
Background
Fishponds are vulnerable to a variety of climate change impacts, including sea-level rise, changes in precipitation patterns, rising air and ocean temperatures, ocean acidification, and more frequent, intense, extreme storm events. The community is a coastal, high-impact area that has already begun to feel the effects of climate change. Preparation and education for a climate resilient community has only begun recently. This project will work with the community through three main programs that will increase engagement with students, families and the general community. 
Goals
This project will work to address community awareness, cultural connection between kanaka (people) and ʻāina (land), increased food security and a resilient community.
Increase community awareness, ancestral ecological knowledge (AEK) and participation in climate mitigation through fishpond work. 
Main activities
Community ʻOhana (family) Workshops/Workdays —6 each
Engage the local schools and students—meaningful, place-based curriculum to engage K-12 students—writing and piloting the program in the first year and integrating the program in year two.
Lawaiʻa Camp—Fishermanʻs Camp—Annual Community family camp based in AEK fishing and coastal practices with indigenous practitioners. 
Outcomes
ʻOhana and community have increased Ancestral Ecological knowledge—and the connection between kanaka (people) and ʻāina (land). A community that is culturally based, in traditional aquaculture and agriculture, increasing access to eating traditional foods.
Students with increased literacy for climate readiness and capacity to maintain community.