»
»
Skyrocket your green idea!
Skyrocket your green idea!
The Youth Innovation Challenge was held ahead of the 2018 CEC Council Session, taking place on June 26-27 in Oklahoma City, Oklahoma, United States. Be sure to tune in to our live webcast on June 27 at 4 p.m. EDT, as the winners present their projects to North America's top environmental officials.
The Challenge was open to North American students and young entrepreneurs ages 18-30 who submitted their innovative solutions for improving both the environment and the economy in North America. Their ideas were crowdsourced—enabling submitters to capitalize on feedback from over 2,900 North American youth registered on the crowdsourcing platform. Over 200 ideas were evaluated by the CEC Idea Evaluation Panel and CEC experts, and nine semifinalists were selected to develop their ideas into full proposals. Winners were selected by the CEC Council.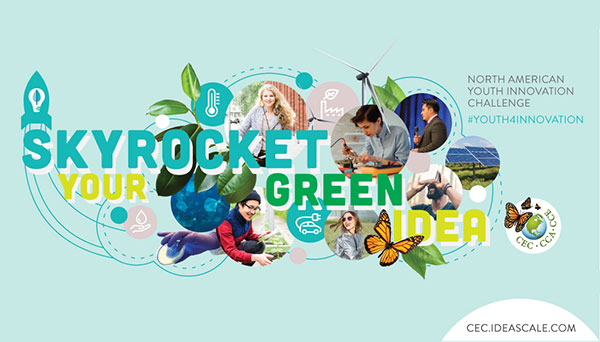 Winners of the 2018 CEC Youth Innovation Challenge Announced
For more information, contact:
Head of Unit, Outreach and Partnerships
(514) 350-4336
#Youth4Innovation