Transforming Recycling and Solid Waste Management in North America
Status: Active
Operational Plan: 2021
Project Duration: 48 months
Start date: November 15, 2021
Reducing waste and closing material loops help minimize environmental impacts throughout the value chain of resources and products. They also present considerable economic opportunities. Circular economy strategies, including a multitude of recovery options, are estimated to unlock $4.5 trillion in economic growth around the globe. The transition to a circular economy and increased material recovery also offers the potential for climate change mitigation.  The impact that material circularity will have on greenhouse gas emissions is highly dependent on the type of material being recovered and the local circumstances affecting energy offsets. Shifting toward sustainable production and consumption patterns is about improving the management and efficient use of materials and resources. This shift opens the door to new economic and environmental opportunities, as well as securing a more sustainable and resilient economic future.
To find out more about this project, here is the complete project description.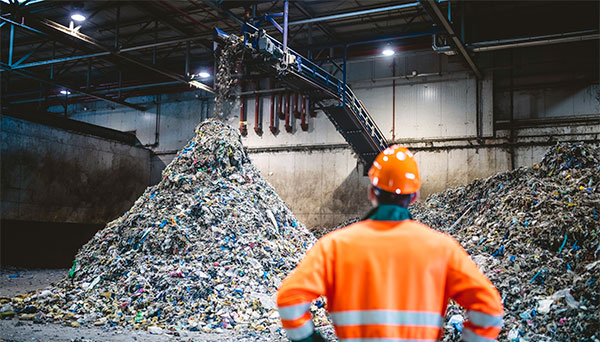 Issues
The World Bank estimates that around 2 billion tonnes of municipal solid waste were generated in 2016, with Canada, Mexico and the United States generating 0.4-1.5 kg more waste per capita per day than the global average.
North America has the highest per capita plastic and paper consumption in the world. The region represents 21% of total global plastics consumption and four times the global average per capita paper consumption.
Aim
The objective of this project is to accelerate the uptake of circular economy and sustainable materials management practices that are needed to transform North American recycling and solid waste management and will generate economic and environmental benefits for the region. This will be accomplished by developing milestone studies to better understand the opportunities for the recycling sector and secondary material markets in North America, and an overview/description of the legal and policy-relevant frameworks. We will also identify emerging materials and technologies and support stakeholder collaboration and knowledge sharing through networking activities.
Building on the results of milestone studies and stakeholder input, the project will include pilot projects to assess the feasibility of implementing innovative technologies or practices at scale across North America.
Deliverables
Three milestone studies will be developed, based on robust definitions of key terms that will allow sound compilation of specific data and figures, focusing on various waste streams.
The opportunities and technologies identified in the milestone studies will be pilot tested to increase understanding of both the current state of the recycling sector in North America and opportunities for the future. This will further support collaboration with stakeholders via networking activities/events.
Networking aimed at promoting knowledge transfer, exchange, and cooperation among project partners and the stakeholders will be organized and hosted.
For more information about this project or to partner with us, contact:
Armando Yáñez Sandoval
Head of Unit, Green Growth
(514) 350-4337