»
»
»
Supporting the Growth of Green Building
Supporting the Growth of Green Building
Status: Completed
Operational Plan: 2010
Green building addresses climate change and other energy-related air emissions in two basic ways:
First (and most importantly), by reducing the amount of energy used to light, heat, cool, and operate buildings and their appliances.
Second, by substituting what currently is mostly carbon-based energy with alternatives that do not involve the production of greenhouse gases and other harmful air emissions.
To foster green building markets in North America with particular reference to align regional standards and/or rating systems for energy efficiency in buildings used to assess green building performance.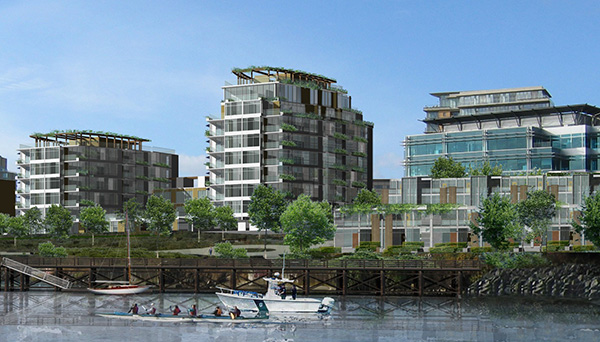 Background
In 2008 the Commission for Environmental Cooperation (CEC) Secretariat published an independent (Article 13) report, Green Building in North America: Opportunities and Challenges. This report and nine detailed background papers identified major challenges related to green building, as well as opportunities for green building to play a transformational role in addressing a number of environmental challenges, most prominently energy conservation and the reduction of greenhouse gas emissions.
Rational
In Canada, Mexico, and the United States, commercial and residential building operations account for approximately 23, 30, and 40 percent of energy consumption, respectively. Every year, the energy used by buildings in North America results in the release of more than 2,200 megatons of carbon dioxide (CO2), approximately 35 percent of the continent's total.
Recent studies by the Intergovernmental Panel on Climate Change (IPCC), McKinsey & Company, and Vattenfall, indicate that improved building practices are some of the quickest and cheapest ways to achieve significant reductions in greenhouse gas emissions, often with net economic benefit.
Key Activities
Host an expert workshop to support a common understanding among government agencies and other stakeholders on the potential benefits, opportunities and challenges of developing and facilitating the application of regional green building rating systems for a specific building sector.
Based on the outcome of the expert workshop, host a technical workshop with key experts to develop a platform to adopt regional metrics and rating systems for energy efficiency in commercial and residential buildings.
Achievements
Increased understanding of the potential of harmonized green building energy efficiency standards to promote market development, innovation and facilitate trade in this industry.
An expert workshop to be held in winter 2010.
A follow-up technical workshop to be held in spring 2010.
An action plan to be developed by fall 2010.