»
»
»
Sol Not Coal: Leveraging Solar Energy to Strengthen Community-Based Nonp...
Sol Not Coal: Leveraging Solar Energy to Strengthen Community-Based Nonprofit Organizations
Organization: New Energy Economy
Location: Santa Fe County and Rio Arriba County  San Ildefonso Pueblo Santa Clara Pueblo San Juan Pueblo Taos Pueblo  Picuris Pueblo Ohkay Owingeh Pueblo Nambé Pueblo Pojoaque Pueblo and Tesuque Pueblo
Country: United States
Other Organizations Involved:


Tewa Women United,

Zona Del Sol Youth and Family Center,

Homewise,

Youth Works,

Positive Energy Solar,

Active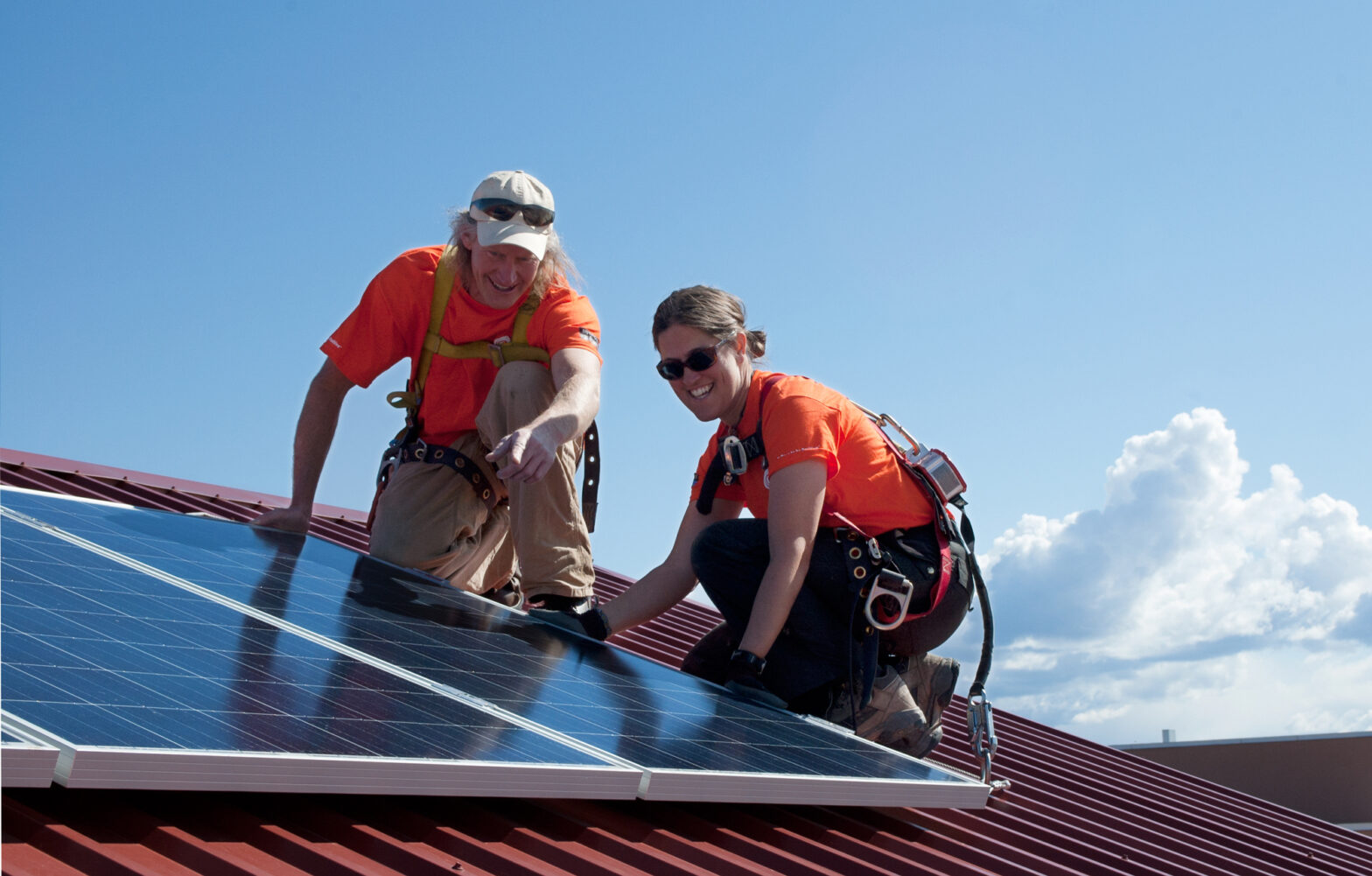 Background
Currently 60% of New Mexico's energy needs are met by the combustion of coal, with adverse effects on our economy, environment and health. Rate payers have spent approximately 360 million dollars on coal electricity in New Mexico yearly. Meanwhile, New Mexico has some of the greatest solar energy potential in the country and could become an important national leader in the shift from a fossil fuel–based US economy to a clean energy economy.
By reducing energy consumption and diverting funds from fossil fuels to renewable alternatives, we take an essential step in building a healthier and more economically durable community. Beyond the immediate benefits of reducing utility costs, long-term improvements include reduction of carbon emissions and other toxic pollution, water conservation, and improved public health. Once installed, solar systems provide a hedge against rising electricity rates while simultaneously creating sustainably-sourced electricity.
It is critical that the economic, environmental, and community empowerment benefits of the clean energy economy be made available to traditionally underserved communities. One way to increase awareness and bring the benefits of solar energy to historically underserved communities is to solarize the community centers, which are at the heart of these communities. Highly visible, educationally designed, and effective solar systems installed at community hubs build community awareness, further investment in renewable energy alternatives, and build momentum for large-scale solar proliferation. Solar-powered community centers in historically underserved communities prove that solar is not just a solution for the wealthy and environmentally focused but a tangible, palpable, and effective option for whole communities. Solar, and especially, decentralized solar, has the potential to democratize our energy systems.
Nonprofit organizations have prescribed limits on the percentage of their operating budgets they can devote to utilities. Tewa Women United, Zona Del Sol, Youth Works, and Homewise are community organizations which provide critical social services in health, education, and housing to minority and low-income community members in northern New Mexico. Solarizing these community centers will create immediate savings on utility bills that can be redirected to service provision, will raise awareness in visitors and clients, and will reduce reliance on coal-fired electricity in favor of utilizing the abundant solar resources in New Mexico—with no adverse health consequences.
Goals
We are seeking funds to implement two solar energy projects for two nonprofit organizations in northern New Mexico as part of our Sol Not Coal project for nonprofits. The purpose of these solar projects is to increase the self-sufficiency and economic durability of vital community-serving agencies as well as to demonstrate the benefits and scale-ability of solar as an alternative energy source in the southwestern United States. New Energy Economy sees solar proliferation as an essential step in creating a healthy and sustainable New Mexico. This project will meet the CEC's strategic priorities in the area of Climate Change: Low Carbon Economy by bringing community-scale energy efficiency and renewable energy to local nonprofit organizations that serve young people, Native communities, and working families. These solar projects will contribute to local economic development and serve as models for community education and empowerment with tangible results that help to generate understanding and support for further solar power deployment.
Main Activities
Each nonprofit organization will receive an energy efficiency assessment and information on practical efficiency upgrades in advance of the community-scale solar electric power installation. A community-wide celebration following the installation of each solar power system will enhance community awareness. Community capacity building will be enriched through training and outreach activities for staff and constituents.
Each participating nonprofit community center will proceed along an established project path that includes six basic milestones: 1) Project approval by relevant authorities. 2) Preliminary community assessment. 3) Information distribution on energy efficiency, renewable energy and related economic opportunities. 4) Community-scale solar electric power system installation, including real-time computer monitoring and informational signage. 5) Community-wide celebration. 6) Integration of energy system into programming for on-going community education. The progress toward these six milestones will be the core means to evaluate the project's implementation.
Results
The 2 solar power systems will generate approximately 70,000 kWh/year of electricity, save approximately 100% on electric utility bills (and potentially, solar sold back into the grid could be a net income generator), conserve approximately 1 million gallons (3.79 million liters) of water not used in coal plant turbines, and eliminate approximately 5 million pounds (2.27 million kg) of carbon pollution that would have otherwise been released into the atmosphere by fossil fuel–based electricity generation. Money that would otherwise be spent on utility bills will be redirected towards vital community programs and services. Solar celebration events, positive media campaigns, and educational programming and materials at the community centers will expose at least 3,000 community members per year to solar energy solutions.