Socio-environmental Capacity Building for COVID and Climate Change in Rural Communities of the Rio Grande/Bravo
Organization: Rio Bravo Restoration
Río Bravo Restoration is a non-profit that is passionate about improving ecosystems and working with a diverse group of public and private organizations to foster stewardship and build capacity for conservation work.
Location: The region where this project is located is the Rio Grande/Río Bravo along the US-Mexico border in the Big Bend region that includes the borderland states of Chihuahua, Coahuila, and Texas. Training workshops will involve citizens from towns including but not limited to: San Vicente, Boquillas del Carmen, Jaboncillos Grande, San Miquel, Piedritas, La Union, Jaboncillos Chico, La Morita, and Ocampo.
Country: Mexico, United States
Other Organizations Involved: La Comisión Nacional de Áreas Naturales Protegidas (Conanp)
Active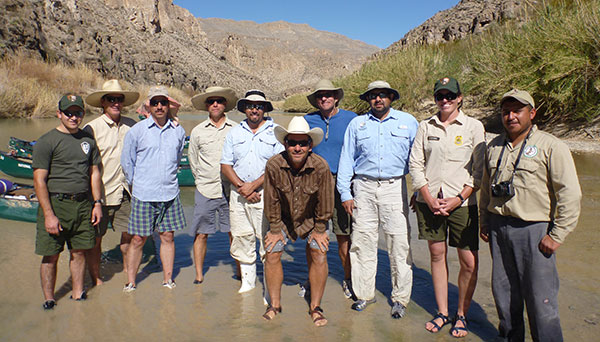 ©Jeff Renfrow; Rio Bravo Restoration
Background
Over the last century, the hydroecologic condition of the Rio Grande/Río Bravo reach along the US-Mexico border has dramatically declined, negatively affecting a plethora of native species as well as the ecosystem services the river provides local citizens. The impacts of climate change are exacerbating this decline as well as threatening the socioeconomic status and community health of the towns of this remote region. Although a concerted binational restoration response over the last two decades has accomplished much to bring the river back, efforts to date to involve local citizens in climate adaptation and river restoration efforts have been introductory and sporadic. To address this limitation, this project will focus on training citizens from several towns in this remote region to be a skilled and employable labor force for both implementing restoration actions as well as designing and installing climate-adapted community and household green infrastructure.
Goals
The project has three central goals, which are to: (i) train and involve citizens (both men and women) in the implementation of on-the-ground river and upland restoration actions along the Rio Bravo; (ii) train and involve mostly women citizens from several towns in the region in the design and installation of community and household green infrastructure; and (iii) increase awareness and capacity of citizens from several towns in the region to address a variety of socioeconomic and environmental challenges that face their communities in the context of a rapidly changing climate.
Main activities
Conduct several training workshops with 10 to 20 citizens on the implementation of such restoration actions as eradication of non-native plants and the establishment of native species.
Conduct several training workshops with mostly women on green infrastructure, including the design and installation of water catchment features, gardens, solar panels, and efficient stoves.
Production of written training materials to conduct similar trainings and workshops far into the future.
With newly trained community members, implement several restoration and community green infrastructure projects to serve as demonstration projects to strengthen future community involvement and capacity.
Outcomes
The establishment of a core group of skilled and trained community citizens (with emphasis on women citizens) who can be hired in the future by Conanp, local NGOs, and other binational partners to implement river restoration actions and to design and install community and household green infrastructure.