»
»
»
Regenerative Agriculture, Solar Power, and Economic Development for Comm...
Regenerative Agriculture, Solar Power, and Economic Development for Community Health and Resilience
Organization: Remy's Good Day Fund
Remy's Good Day Fund promotes individual dignity through education, enterprise, and understanding people's needs.
Location: Gallup and Vanderwagen, New Mexico
Country: United States
Other Organizations Involved: Gallup Solar, Covenant Pathways

Active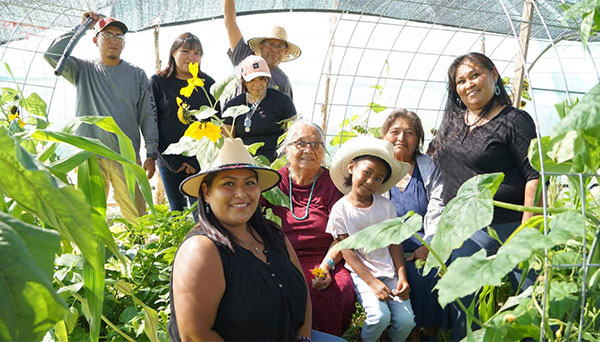 ©Joyce Skeet, Covenant Pathways
Background
Navajo, Zuni, and neighboring communities experienced some of the highest rates of COVID-19 in the United States. Chronic diseases, poor infrastructure, and lack of economic opportunity were significant contributing factors. Extractive industries exploited natural resources such as coal and uranium and provided unhealthy jobs that led to chronic diseases while degrading the air, water, and soil. Poor soil, an arid climate, and strong sun hampered the production of nutritious foods needed to support good health. Utility-supplied electricity remains unavailable to nearly 15,000 Navajo homes, impairing storage of fresh foods and necessitating the use of polluting energy sources for lighting and other household needs. An effective recovery and resilience plan must address these issues and incorporate both environmental and economic elements to lay the groundwork for sustainable community health and self-sufficiency.
Goals
This project aims to improve the health, environment, and economy of Navajo, Zuni and neighboring areas through a community-centered approach that increases access to nutritious food, expands use of clean energy, improves opportunities for green employment, and promotes sustainable regional economic development.
Main activities
Indigenous traditions recognize that the well-being of people and the environment are inseparable and guide actions for creating a healthier future.
Workshops train growers in regenerative agricultural practices that improve the environment by creating healthy soil to produce nutritious food.
Small agrivoltaic systems increase food production and generate clean energy.
A solar training program prepares community members for clean energy jobs through instruction and installation of free small solar systems and refrigerators in off-grid homes.
A network of food and economy clusters expands regenerative agriculture throughout the region and meets regularly to share expertise and resources.
Outcomes
These activities interact synergistically to benefit communities and the environment. Better soil health provides nutritious food, improving the well-being of community members and our lands. Agrivoltaic arrays boost food production, provide green energy for agricultural operations, and support solar workforce jobs. A solar workforce brings clean energy to off-grid homes, improving residential health and safety while reducing use of fossil fuels for a healthier environment. The cluster network increases the variety of healthy foods available to Indigenous and neighboring communities and provides markets for one another's goods and services, promoting self-sustaining economic development that fosters human and environmental health and creating resilience for the future.