Reduction of Pollution from Waste Cooking Oil and Biodiesel Utilization in Communities of the Municipality of Emiliano Zapata, Tabasco
Organization: Centro del Cambio Global y la Sustentabilidad en el Sureste A.C.
Location: Municipal Seat of Emiliano Zapata, Tabasco  La Libertad El Coco La Isla El Pochote  Villa Chable Palenque (pickup area only) 
Country: Mexico
Other Organizations Involved:


Department of the Environment of the Municipality of Emiliano Zapata, Tabasco,

Completed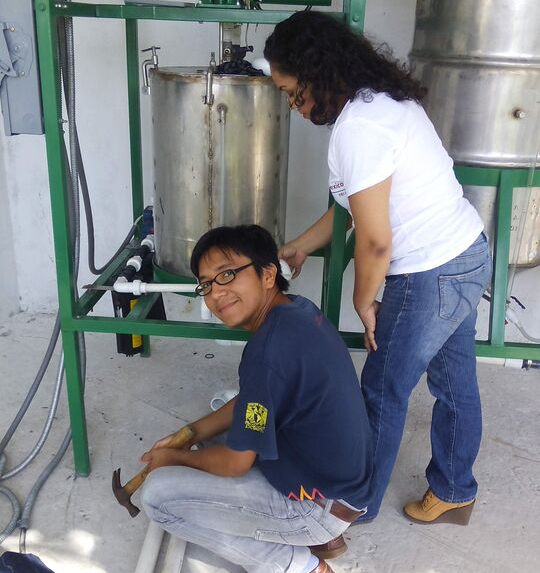 Background
Emiliano Zapata, like other municipalities in the State of Tabasco in southeast Mexico, has been facing the problem of water basin pollution due to urban waste dumped into the water for several years. A major part of this waste has bound to be waste cooking oil from homes and businesses in these communities (one liter of oil contaminates up to 100 liters of water). This leads to a diminished quantity of aquatic fauna, bad odors and gastrointestinal disease foci.
Goals
Awareness created among families and the general population to avoid discharging waste oil into the river basin.
A strategy generated to collect waste cooking oil from restaurants, businesses and homes, simultaneously with pickups by municipal garbage trucks.
A 180-L/batch biodiesel processor built for installation at the Emiliano Zapata municipal seat, fed with the waste oil collected.
Main Activities
Holding community workshops on environmental culture, primarily to advise against discharging waste into water basins.
Giving informational workshops on waste separation and recycling.
Working in conjunction with the Municipality of Emiliano Zapata and neighboring communities on the collection and storage of waste cooking oil.
Constructing an easily transported biodiesel processor, capable of transforming 180 l of waste oil into batch fuel.
Training volunteers and municipal workers on the operation of the biodiesel processor.
Results
A population with training and awareness on the separation and storage of environmentally useful and harmful waste and water conservation.
Gradually cleaner water basins, bringing back health fauna and flora.
Less disease among the population due to the use of contaminated water.
Biodiesel processor capable of 180 l/batch, processing up to 5,000 l per week, installed at the Ecological Park at the municipal seat of Emiliano Zapata, Tabasco.
Biodiesel obtained to operate farm machinery at stockbreeding and farm cooperatives in the area.
Use of biodiesel in the urban and rural zones of the Municipality of Emiliano Zapata, Tabasco, Mexico.