»
»
»
Preserving the Traditional Ecological Knowledge of First Foods and Medic...
Preserving the Traditional Ecological Knowledge of First Foods and Medicines
Organization: Consultants for Indian Progress
Location: Black, Indigenous, immigrant, and LGBTQ youth living in Pierce County (WA), as well as the larger communities of which they are a part
Country: United States
Other Organizations Involved:
Hilltop Urban Gardens, Northwest Detention Center Resistance, Groundswell Arts Collective, Black Mycelium, Latino Advocacy
Active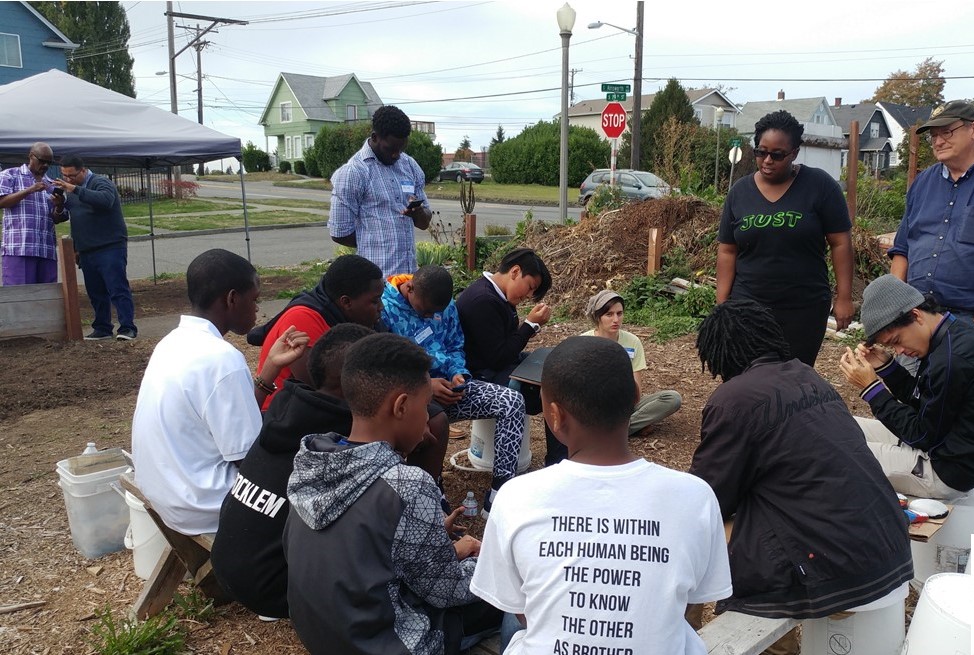 Background
This project promotes the preservation of agro-ecological patterns of production and traditional foodways, based on traditional ecological knowledge (TEK). This partnership for green growth proposes supporting the cultivation of the traditional foods and medicines of indigenous and diaspora groups in our community, using Hilltop Urban Garden's Urban Farm Network and community garden spaces in eastern Tacoma (WA). The combination of establishing gardens with and for our communities, conducting indigenous plant medicinal training, and offering youth the opportunity to reflect on the work through art and storytelling will create tangible outputs in the food grown and shared, the artwork produced, and medicines shared with those along the path of our local canoe family in the 2018 Tribal Canoe Journey's.
Goals
Preserve traditional ecological knowledge (TEK) about the agro-ecological practices used to grow, cultivate, and harvest Indigenous plant medicines, traditional foods, and foodways in the Tacoma Urban Farm Network.
Preserve TEK by involving youth in harvesting and using Indigenous plant medicines and foods, teaching a worldview that is geared towards traditional foodways and environmental stewardship
Main Activities
Plan, plant, maintain, harvest, and redistribute food and medicinal plants in community gardens
Grow Indigenous medicinal and food plants – acquire 20 plant species necessary for making Indigenous medicines
First Foods Story Project – contract storytellers to share culturally relevant knowledge around traditional foods
Implement a curriculum in youth programs that supports culturally relevant and meaningful environmental stewardship
Teach youth about Indigenous medicinal plants and preserve TEK
Creative Resistance and Expression Workshop (CREW) – supports youth to narrate their experiences through art.
Results
We expect that 50 high school-age youth will develop the tools that they need to lead their own culturally relevant initiatives in environmental stewardship. We expect that at least 10 of the youth will receive STEM credits at their high school. We expect to redistribute 1 ton of traditional food back into our communities and to distribute medicinal balms created by youth at the 2018 Tribal Canoe Journey.