»
»
»
Mi'kmaw Wildfire Resilience Initiative
Mi'kmaw Wildfire Resilience Initiative
Organization: The Confederacy of Mainland Mi'kmaq
Location: Eight Mi'kmaw communities in Nova Scotia, Canada
Country: Canada
Other Organizations Involved: All Mainland Mi'kmaw Communities in Nova Scotia (Acadia, Annapolis Valley, Bear River, Glooscap, Millbrook, Paqtnkek, Pictou Landing, Sipekne'katik First Nation);
Completed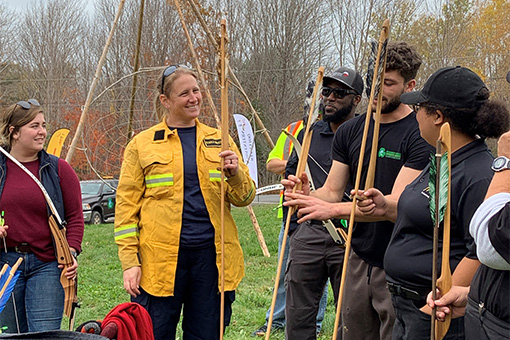 Background
Climate change is affecting many aspects of our communities, from increases in temperatures, changes in weather patterns, altered or perturbed species migration, and increased extreme weather events. There has been a notable rise in wildfires in Western Canada in recent years: a primary concern for Mi'kmaw communities in the Atlantic Region of Canada who fear that they will soon begin to see similar increases in wildfires in the natural and built environment of their geographic location. As a result, in 2018 wildfire assessments were conducted in seven Mi'kmaw communities in Nova Scotia. The assessments rated all communities at moderate to extreme risk of wildfire occurrence, and the majority at high to extreme risk. Each community was given recommendations to prepare for and mitigate the risk of wildfire. The communities also participated in Wildland Firefighter training, with over 40 community members trained. However, more efforts and resources are needed to address community concerns and to increase their resiliency to wildfires.
Goals
The challenge of this project is to address that next step and use the training/assessment component, together with community support, to put wildfire mitigation into action. A pilot community will be chosen, based on its high risk of wildfire, as well as its size, geographic location, and support for this initiative. The overall purpose of this project is to promote ongoing efforts for wildfire mitigation, creating a framework to support communities and having other communities supporting each other.
Main activities
Review community wildfire assessments, community preparation, support, and demographics. Meet with each community and the project partners to discuss pilot opportunities.
Host a two-part community workshop to train members on FireSmart practices, including a classroom and practical field session. Host event(s) at a pilot community wildfire mitigation day.
Mitigate wildfire risk within the pilot community. Set community priority zones and areas for wildfire prevention management. Conduct clearing and cleaning of areas around community buildings, removing debris.
Plan and implement existing and new landscaping work to be FireSmart. Assess the pilot communities' water source. Determine if a fire pond is needed and estimate its cost.
Results 
Although one community will be the main one piloted, low-cost methods will be shared for implementation within all communities to ensure all communities are involved. The pilot community's efforts will be shared with all other communities and with the Climate Action Advisory Committee (which guides projects within First Nations communities in mainland Nova Scotia related to climate adaptation and emergency preparedness). Finding solutions and increasing community capacity through resources, funding, and consistent community engagement or a support network can increase community's preparedness for wildfires, and also increase their overall preparedness, when modeling this approach to deal with other extreme events and achieve emergency preparedness.