»
»
»
Iokwiráhskats ne Éhsa (Our Beautiful Ash Trees): Addressing the Emerald ...
Active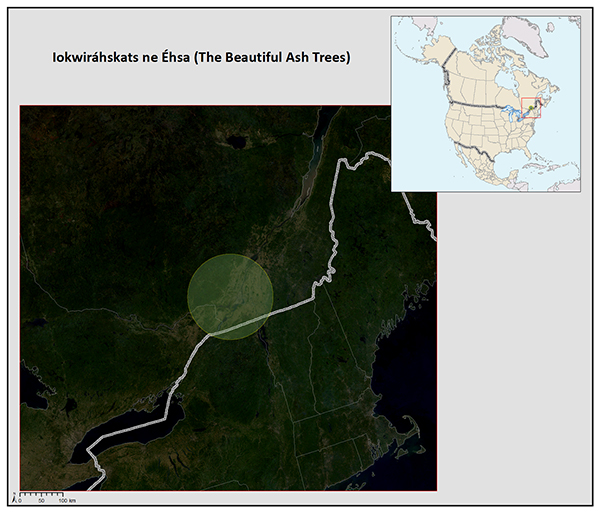 Background
The emerald ash borer (EAB) is an invasive beetle native to Asia that was first identified in North America in 2002 and has killed tens of millions of ash trees as it quickly expands its range. It is predicted that this invasive insect will kill all the ash trees in our area within the next 12 years. This poses many problems, such as lost ecological benefits of trees, threats of invasive plants taking over affected woodlots, physical hazards of falling dead trees, costs for removing or treating ash trees, and the loss of our important tree for traditional basketmaking (the black ash). This project will raise awareness, and develop and implement a plan to address the problem. This will ensure the continuance of our important forest habitats and the overall sustainability of the region.
Goals
The three main goals of this project are:
Improve the knowledge and skills of KEPO staff, Kahnawà:ke community members and other Mohawk communities to address the problems being caused by the emerald ash borer, especially as it pertains to the loss of our traditional basketmaking tree, the black ash.
Assess the extent of the EAB problem in Kahnawà:ke, and
Develop and implement an EAB management plan in Kahnawà:ke.
Main activities
Communication and outreach, ash tree inventory, EAB monitoring, EAB management plan development and implementation, networking with surrounding municipalities, other Mohawk communities, and traditional basketmakers to develop comprehensive and collaborative solutions.
Results
This project will increase awareness of the emerald ash borer (EAB) and the capacity of our community, other Mohawk communities, and surrounding municipalities to proactively address the environmental, economic and cultural threats posed by the EAB. Hazards from falling trees will be reduced through priority tree-removals, and environmental conditions will be improved by the planting of other tree species to replace ash trees killed by the invading beetle. The management plan will provide solutions to address the losses of black ash in our environment and threats to our basketmaking tradition.