Enhancing Food Sovereignty & Resiliency of Remote, Indigenous Communities in BC
Organization: N-EAT Project at Simon Fraser University
Nutrition through Engagement and Agricultural Technologies (N-EAT) is a Pacific Water Research Centre project that partners with First Nations communities across British Columbia to achieve food sovereignty.
Location: Klemtu, British Columbia (Kitasoo/Xai'xais Nation)
Country: Canada
Other Organizations Involved: Kitasoo Band (A governing body of the Kitasoo/Xai'xais Nation)
N-EAT, in partnership with the communities in Klemtu, BC, will be working with several organizations, including the Kitasoo/Xai'xais School, Stewardship Office, Band Council, Public Works Department, Band Store, and the local health clinic. The project will also engage other remote, Indigenous communities in BC. The names of next partnering communities and organizations will be confirmed in Year 2 of the project.
Active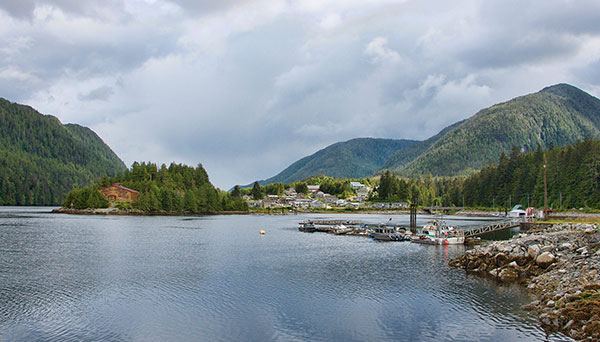 Background
The COVID-19 Pandemic has disrupted the supply chains of food to communities across Canada. In British Columbia (BC), Canada, there have been significant and often long-term supply chain and travel disruptions. BC is also particularly vulnerable to environmental disruptions due to geographical factors. The First Nations communities of Kitasoo and Xai'xais in Klemtu, BC, are seeking to strengthen the local food system to be more resilient to future shocks due to the COVID-19 Pandemic, any future pandemics, and climate change. Presently, the community relies heavily on food imported by ferry. The recent pandemic underscored importance of opportunities to grow and strengthen the local food producing and processing capacity of the community to not only recover but also grow back stronger, integrating traditional foodways as the lifeline to true, sustainable success. The community sees this work as a central part of self-determination and the enhancement of food sovereignty for the Nation.
Goals
The objective of the project is to support community-based COVID-19 recovery, but also to improve the health, prosperity and economic wellbeing of remote Indigenous communities in BC, beginning in Klemtu, through the enhancement of local food sovereignty and resiliency. The project aims to build on local and traditional knowledge that leads to the use of best practices.
Supporting goals include:
Empowering youth to lead local growing operations
Increasing local growing capacity
Developing a seed harvesting program to support biodiversity and the protection of traditional varieties
Implementing circular economy principles to reduce waste
Increasing access to nutritious, local, traditional, organic meals
Revitalizing traditional and creating new trade networks
Scaling the project through engagement with other Indigenous communities in BC
Main activities
Develop and pilot Food Sovereignty and Resiliency Curriculum with local leaders and equip teachers to integrate it
Design, build, and deploy additional garden beds, rainwater harvesting system, and garden fencing
Conduct workshops on seed harvesting and storage
Design and implementation of local soil generation and regeneration program that uses local resources and community waste streams
Design and develop action plan for community kitchen and local cafe featuring locally grown and traditional foods
Conduct regional food trade inventory and interest assessment with collaborating communities
Conduct preliminary food sovereignty needs and opportunities assessment with additional BC communities
Outcomes
Better equipped classroom teachers, with Food Sovereignty and Resiliency Curriculum
Community has increased capacity to grow organic and traditional foods and medicines
Local availability of traditional, organic, and/or heirloom seeds
Community-wide reduction in wastes
Space for communal cooking, linked to cooking classes and nutrition courses
Engaged regional communities in a pilot food trade network