»
»
»
Community Solar Hub Drive
Community Solar Hub Drive
Organization: Resilient Power Puerto Rico
Location: Utuado, Jayuya, Aibonito, Caguas & San Juan, Puerto Rico, United States
Country: United States
Other Organizations Involved: Rocky Mountain Institute; Renewable Energy Incubator Program; Corporación de Servicios de Salud Primaria; Desarrollo Socioeconómico El Otoao and Armonía en la Montaña, Inc.
Completed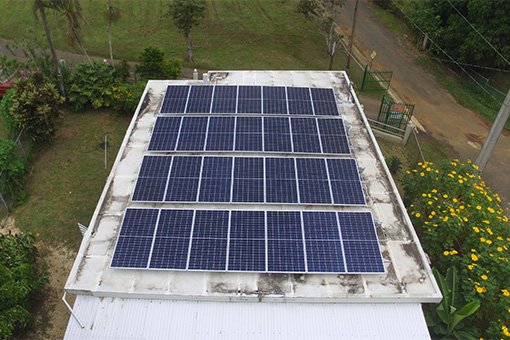 Background
The 2017 hurricane season in the Caribbean was so destructive that entire communities spent months in the dark. Along with the incredible suffering brought by Hurricanes Irma and María to Puerto Rico in September 2017, the disaster revealed a quiet reality as brutal as the disaster itself. Hurricane María left Puerto Rico without power. Most of the more than 3,000 deaths during the disaster were attributable to the lack of access to energy.
The unequal access to energy in Puerto Rico has been a long-standing obstacle in the road to equity and sustainability. Before María, 98% of the energy consumed came from oil, the most expensive fossil fuel. After the hurricane, community groups saw an opportunity to build resilience and sustainability by developing solar microgrid systems.
Goals
To empower communities to have both the technical and operational capacity to work through any emergency or disaster, thanks to the two community organizations selected in this project, running solar energy and battery systems and functioning as a resilient hub for their communities.
Main activities
Create and offer workshops to the selected communities, where technical and economic aspects of the project are discussed and planned. The workshops' result will be the creation of a realtime, real-use roadmap to the acquisition, operation and maintenance of the system.
Distribute system roadmap among the residents. Review and evaluate electrical engineering proposals, then hire the engineer and create the electrical design.
Review installer proposals and select installers.
Once installed, the communities will have an emergency community plan prepared to face the next natural disaster and guarantee the continued operation of the solar and battery system.
Results 
Two community organizations have gone through the initial capacity building phase and are ready to receive a solar energy system and become a resilient hub for their community in the face of climate change. These organizations will be able to build their solar panel and battery systems with sufficient power to work through any emergency or disaster and directly aid recovery efforts in their communities.