»
»
»
Citizen Science for Wildlife Protection in Gatineau Park and the Nationa...
Completed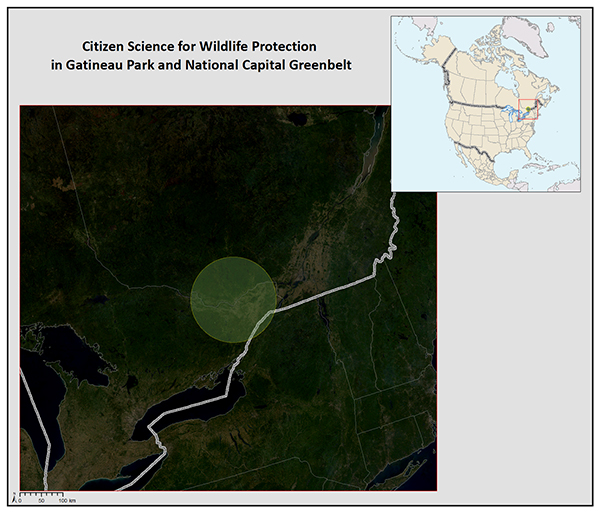 Background
The Ottawa-Gatineau area is experiencing considerable population growth and this is likely to continue into the future, putting pressure on natural areas around the urban area, with the construction of new roads and the expansion of existing roads. Two large natural areas—the National Capital Greenbelt and Gatineau Park—are particularly at risk of fragmentation and isolation as a result of the expansion of the road network. A number of local populations of species-at-risk are also adversely affected by roads and are in decline as a result. Finally, the general public is unaware of the impacts of roads on wildlife, natural areas, and ecological connections across the landscape.
Goals
The goals of this project are two-fold, the engagement of youth in wildlife conservation and in helping to mitigate the impacts of roads and other transportation infrastructure on wildlife in the national capital region, with a particular focus on two large natural areas, Gatineau Park and the National Capital Greenbelt.
Main activities
The main activities will be public engagement through education and outreach, the creation of data collection tools, such as a mobile phone app and associated database for compiling information related to wildlife on or near roads, and the creation of a series of maps to illustrate the issue. Moreover, based on this mapping, we will identify and propose mitigation options for areas of high wildlife mortality.
Results
This project will help address a serious lack of data and knowledge about road ecology in the region, raise awareness of the impact of roads on wildlife and wildlife connectivity while engaging youth in conservation. In addition, mitigation plans, maps and other material will be created to help improve existing roads and ensure that new roads are designed with hazard mitigation measures for wildlife.