Building Pandemic Recovery and Response through Access to Safe Drinking Water at Beardy's Okemasis Cree Nation
Organization: South Saskatchewan River Watershed Stewards
The SSRWSI is a grassroots, community-driven, non-profit organization working within the watershed to implement programs and initiatives that will protect the water resource.
Location: Saskatchewan, Beardy's & Okemasis Cree Nation
Country: Canada

Active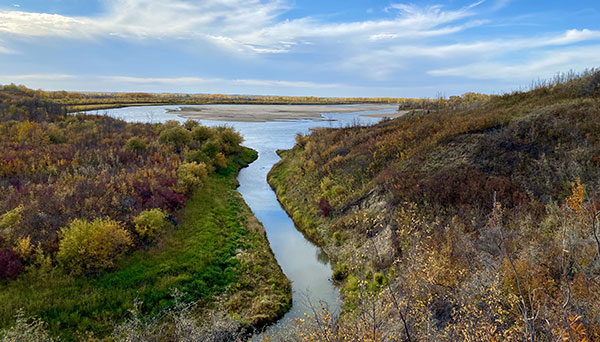 ©Juliane Schultz
Background
In Canada, Indigenous populations are at an elevated risk of exposure to COVID-19 compared to non-Indigenous communities. This condition is due to a number of reasons including, but not limited to, the physical isolation of communities, over-crowded housing, cultural practices necessitating community gatherings, and poor access to safe drinking water. This project aims to narrow the gap between Indigenous and non-Indigenous communities respecting the impacts of COVID-19 and other pandemics. Drinking water contamination continues to plague a disproportionate number of Indigenous communities in Canada. COVID-19 has only exacerbated human health conditions associated with poor water quality for on-reserve Indigenous people. Beardy's & Okemasis Cree Nation in Saskatchewan has a long history of water quality concerns. Water distribution in the community is primarily by truck to household cisterns. This method of delivery presents an elevated risk of contamination.
Goals
This project aims to narrow the gap between Indigenous and non-Indigenous communities respecting the impacts of COVID-19 and other pandemics. A focus on drinking water protection, aquatic habitat restoration and youth education will offer a transformative approach to improving the health condition in Indigenous communities.
Main activities
Habitat restoration: this will include aquatic habitat inventory, environmental water monitoring, habitat restoration such as tree planting, riparian assessments, and wetland restoration.
Human health and ecosystem awareness through classroom education: deliver water science, ecosystem and habitat protection awareness to students in the community K-12 school. The project proposes water testing kits in the classroom, field inspections, community clean-up, household recycling, and other project initiatives to protect and improve aquatic habitat and local drinking water supplies. 
Outcomes
Results from the project include an inventory of all aquatic habitat conditions in the community; the aquatic habitat inventory will lead to risk assessment and management actions for community members to undertake.
Capacity building to improve environmental and aquatic conditions in the community will be achieved.
Another result will see improved riparian protection and environmental health conditions in the community.
Water education, including water quality monitoring, youth art, and photovoice will raise youth awareness around safe drinking water, water safety and human health.
Finally, a professional video will serve as documentation of all community protects with interviews to share with the community on the BOCN website. The video may motivate other communities to engage in habitat protection and enhancement.