»
»
»
Building Community Climate Change Knowledge and Resilience in Older Adul...
Building Community Climate Change Knowledge and Resilience in Older Adults and Immigrants
Organization: University of Alberta, Research Services Office
Location: Edmonton, Alberta, Canada
Country: Canada
Other Organizations Involved: Faculty of Nursing, Centre for Research in Applied Measurement and Evaluation, and Department of Physical Therapy, Faculty of Rehabilitation Medicine, all part of the University of Alberta
Completed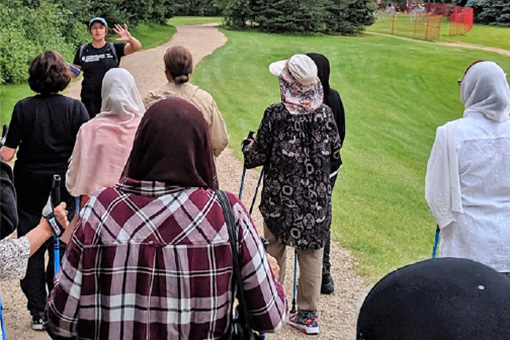 Background
Climate change is affecting all populations, though impacts vary widely. We will create an interactive, web-based platform for stakeholders to identify vulnerable communities (e.g., older adults, immigrant) and co-develop climate change toolkits aimed at vulnerable populations. Collectively, this work aims to pave the way for building local climate change resilience and adaptation opportunities by enhancing the capacity of local institutions and communities in Edmonton to respond to climate change.
Goals
Identifying vulnerable communities is a critical part of building climate change resilience and adaptation measures. We will develop an interactive, web-based mapping platform based on a community vulnerability index to extreme weather (heat, cold, snow/ice) and air pollution events (e.g., wildfires) in Edmonton. Work has already begun with partners (CitiesIPCC: 2019-I-18-IPCC grant) to develop the vulnerability index. Building on this work, we will develop this into a platform consisting of a web-based user interface that can accessed, modified, and updated by stakeholders like the City of Edmonton (letter of support). This platform will assist policymakers and planners in developing appropriate, targeted adaptation strategies and building resilience in vulnerable communities.
Working closely with our partners/beneficiaries to enhance applicability and uptake, we will co-design and pilot KM tools targeted to older adult and immigrant communities (e.g., large print materials, translated material). The KM tools (e.g., fact sheets, videos) will focus on ways that older adult and immigrant communities can reduce their vulnerability and increase their resilience to extreme weather and air pollution events, which pose significant health threats. These tools are adaptation resources that will be widely disseminated to help build both individual and community resilience in Edmonton.
Main activities
Model the modifying effect of community-level factors (e.g., proportion of older adults, immigrants, health services, green space) on the relationships between extreme weather/air pollution events and respiratory/cardiovascular outcomes for the City of Edmonton.
Develop and map a community-based vulnerability index and map it for communities in Edmonton.
Create a secure, user-friendly, updatable, accessible, interactive, anonymized web-based platform using ArcGIS Enterprise and ArcGIS Online (cloud-based) to host maps of vulnerability indices.
Form knowledge mobilization team built from existing and new collaborations.
Co-develop (with knowledge mobilization team) fact sheets and videos on adaptation to extreme weather and air pollution events and their effects on older adults and immigrants.
Include community-level/individual-level strategies to mitigate impacts on health and safety.
Results
This work has the potential to be replicated and scaled up for other North American communities and include other vulnerable populations (children, street workers, homeless). Though this is an Edmonton-based pilot study, we plan to scale up this approach for the rest of Alberta (including rural areas) and integrate this into a chronic disease surveillance tool (for the Public Health Agency of Canada). Results and outputs will be shared widely with different stakeholders (researchers, government, nonprofit organizations). The study team members are also compiling an extensive network of partners—provincially, nationally, and internationally—to facilitate future work.