»
»
»
A Network to Identify, Enhance and Transfer Adaptive Capacity between No...
A Network to Identify, Enhance and Transfer Adaptive Capacity between North American Indigenous Communities
Organization: Assembly of First Nations
Country: Canada

Completed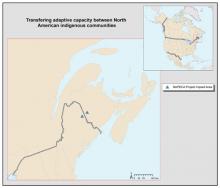 Background
The resilience of Indigenous communities has been illustrated through the ability to adapt to environmental changes throughout time. Today, Indigenous communities are experiencing unprecedented environmental changes, that are threatening their very health and well-being. Developing innovative methods to identify and adapt to such rapid changes has never been more important.
The communication, creation and exchange of information and knowledge are critical to the ability and success of Indigenous communities to effectively adapt to climate change and remain resilient in the face of such change. This project will establish a network to identify, enhance, and transfer adaptive capacity between North American Indigenous communities.
Goals
Develop a greater understanding of climate change impacts and adaptation efforts within North American indigenous communities;
Establish a network of Indigenous communities within the New Brunswick/Maine region to facilitate the exchange and creation of climate change adaptation knowledge and experiences;
Report on these experiences and knowledge as well as the transferability of such information
Main activities
Literature review;
Community workshop(s);
Final report submission
Results
Identify First Nations and American tribes in the project area that are working on, or have completed, climate change adaptation projects and that are interested in developing a network to share this information;
Develop a network of indigenous communities interested or active in climate change adaptation projects, program or initiatives;
Document climate change indicators, impacts and best practices in adaptation and report on the transferability of these practices.