»
»
UPCOMING WEBINAR: "Food Loss and Waste: Why and How it Matters to You"
UPCOMING WEBINAR: "Food Loss and Waste: Why and How it Matters to You"
Montreal, 24 March 2021—Join us on 31 March 2021 from 12:00pm to 13:30pm EDT via Zoom for a virtual panel discussion on why food loss and waste is more relevant than ever.
Presenters from across the food supply chain in Canada, Mexico and the United States will share their experiences in tackling food loss and waste and answer your questions. There will be simultaneous interpretation to English, French and Spanish available.
This event is organized in conjunction with the release of Why and How to Measure Food Loss and Waste: A Practical Guide 2.0 which implements findings from focused testing with a diverse set of businesses and organizations across North America about how they address food loss and waste.
This webinar along with this user-friendly guide empowers a wide range of stakeholders, including governments, businesses, and households to find solutions to prevent and reduce food loss and waste. Additional information on CEC's work on food loss and waste can be found here and social media assets for promoting the event and joining the conversation can be found here.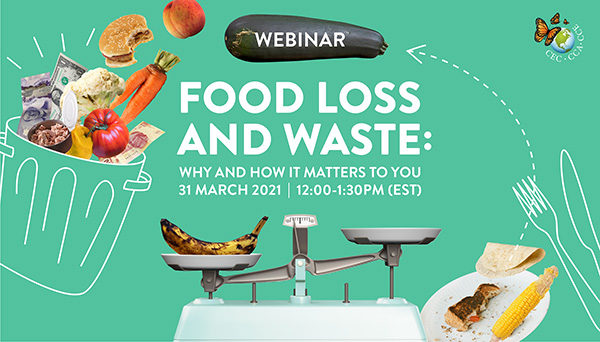 About the CEC
The Commission for Environmental Cooperation (CEC) was established in 1994 by the governments of Canada, Mexico and the United States through the North American Agreement on Environmental Cooperation, a parallel environmental agreement to NAFTA. As of 2020, the CEC is recognized and maintained by the Environmental Cooperation Agreement, in parallel with the new Free Trade Agreement of North America. The CEC brings together a wide range of stakeholders, including the general public, Indigenous people, youth, nongovernmental organizations, academia, and the business sector, to seek solutions to protect North America's shared environment while supporting sustainable development for the benefit of present and future generations
The CEC is governed and funded equally by the Government of Canada through Environment and Climate Change Canada, the Government of the United States of Mexico through the Secretaría de Medio Ambiente y Recursos Naturales, and the Government of the United States of America through the Environmental Protection Agency.