»
»
A North American Celebration of the Importance of Pollinators
A North American Celebration of the Importance of Pollinators
The year 2023, coming on the heels of a new Global Biodiversity Framework, marks a pivotal moment in the history of pollinator conservation across North America.
Building on the research of countless scientists and on the momentum of more than 25 years of trinational monarch butterfly collaboration through the Commission for Environmental Cooperation (CEC), we have many successes for North American pollinators to celebrate. From trinational strategies, partnerships, scientific advancements, and inspiring community-led efforts, to enhanced communication and coordination, the governments of Canada, Mexico and the United States continue working together across our shared environment to protect and support vital habitat and species at a continental scale. These monumental efforts are needed urgently, and so we are building even more momentum and creating additional ways for North Americans to get involved.
Despite this shared trinational progress, the best available science has made it clear that the decline of the monarch butterfly is in fact a symbol of a much greater environmental challenge (and opportunity): indeed, the monarch butterfly is merely one species among hundreds of butterflies, thousands of bee and insect species, and numerous other pollinating birds and bats found across Canada, Mexico and the United States, which are also declining and require urgent conservation action. We can see the evidence of this in a growing list of threatened or endangered pollinator species, with even more at-risk species on the horizon. Despite many unknowns because of a lack of long-term data, we know enough to justify this call to action for North America's essential pollinators.
There is something especially evocative and moving about pollinators, perhaps because they are so fascinating and small in size, yet they play such a large role, interwoven into the fabric of our agriculture, natural ecosystems and urban landscapes. We see that pollinators touch our lives in profound ways—ecologically, economically and culturally—across all sectors of global society. But we also encounter these creatures locally—in our backyards, gardens, and in our daily life.
This makes pollinators uniquely approachable for people from all walks of life: they are a direct connection to our food, to nature, and to us as part of our environment. People care deeply about pollinators and anyone can play a part in the wide variety of solutions that will support these species and our critical biodiversity. Thus, pollinators offer us a gateway to engage the next generation of conservation practitioners looking for new ways to make a difference.
The basic concept of pollinator conservation is quite simple and the ways to help are many: across our agriculture, natural ecosystems and our urban landscapes—in the public and private sectors—it is critical to have diverse native habitats and flowering plants available throughout the growing season, under changing climatic conditions, as well as to reduce the amount of pesticides used over large areas, and prevent the spread of pathogens to keep people, animals and the environment safe and healthy.
But where do people fit in, exactly? We need more data to track the status and trends of pollinators, both coming from experts and researchers as well as from citizen scientists and participatory science, with key roles for people such as farmers and urban gardeners. We also need more artists to capture and transform public attention and to inspire our collective imaginations for envisioning a new relationship with pollinators and nature more broadly. To be sure, this is a great role for federal, state, provincial and Indigenous and local leaders, alongside nongovernmental organizations, academia and industry. In turn, pollinator conservation will yield a wide range of positive results for us, from improved collective food security and economic stability, to climate-resilient landscapes and broader human wellbeing. We can all work together toward this shared vision.
Across our three countries, we see signs of a growing movement. Our federal governments are developing new strategies, building and empowering partnerships, and advancing the state of the science. In Canada, there is investment in habitat restoration and conservation from all levels of government and across sectors. For example, Environment and Climate Change Canada has invested C$8.4 million dollars in pollinator habitat restoration since 2017, and is working on a national strategy for native seed conservation. In Mexico, the National Strategy for the Conservation and Sustainable Use of Pollinators offers a roadmap for unifying agencies across government and society to conserve the pollination services necessary for maintaining sustainable agriculture and the ecosystem services on which it depends. In the United States, we see a broad coalition of researchers and citizen scientists organizing and mobilizing to illuminate native bee and butterfly population changes and guide conservation strategies; and the U.S. Fish and Wildlife Service has launched a new national Center for Pollinator Conservation to help lead and support these endeavors. Given the increased engagement and attention to pollinator conservation across all three countries, there has never been a better time for North Americans to work together, to share lessons learned and knowledge that will advance pollinator conservation and ensure healthy ecosystems and sustainable methods of food production persist into the future.
As we enter a new era of pollinator conservation, we are thrilled to be a part of the CEC's celebration of the importance of pollinators. We invite you to join us in supporting pollinator conservation in North America, as we raise awareness and promote action to protect these essential creatures. In the months ahead, we will be sharing new stories, tools, social media materials and other fun activities designed to engage and educate people about the critical role of pollinators. We encourage you to stay tuned, get involved, share your own stories, and help us spread the word about the importance of pollinator conservation. Together, we can make a positive impact on the well-being of our pollinators and the ecosystems they support.
Signed,
Ryan Drum, Conservation Biologist, U.S. Fish and Wildlife Service
Greg Mitchell, Research Scientist, Human Dominated Ecosystems, Environment and Climate Change Canada
Ignacio J. March Mifsut, Director of Evaluation and Monitoring, Conanp (National Commission of Natural Protected Areas of Mexico)
For the CEC project "Advancing Pollinator Conservation throughout North America"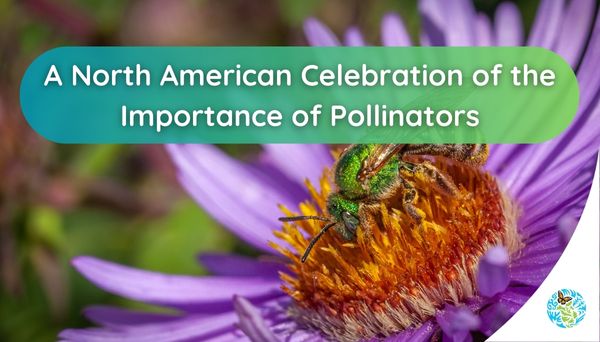 About the CEC
The Commission for Environmental Cooperation (CEC) was established in 1994 by the governments of Canada, Mexico and the United States through the North American Agreement on Environmental Cooperation, a parallel environmental agreement to NAFTA. As of 2020, the CEC is recognized and maintained by the Environmental Cooperation Agreement, in parallel with the new Free Trade Agreement of North America. The CEC brings together a wide range of stakeholders, including the general public, Indigenous people, youth, nongovernmental organizations, academia, and the business sector, to seek solutions to protect North America's shared environment while supporting sustainable development for the benefit of present and future generations
The CEC is governed and funded equally by the Government of Canada through Environment and Climate Change Canada, the Government of the United States of Mexico through the Secretaría de Medio Ambiente y Recursos Naturales, and the Government of the United States of America through the Environmental Protection Agency.