Thank You for Making #CEC29 a Great Success!
We would like to thank everyone who was able to join #CEC29, whether with us in Mérida, Mexico or attending virtually.
During this year's Session, the Environment Ministers of Canada, Mexico and the United States announced a sweeping set of initiatives, including:
An additional US$2 million to launch a new cycle of the EJ4Climate grant program that will focus on projects supporting environmental education to build resilience to climate change. The EJ4Climate grant program supports underserved and vulnerable communities, and Indigenous communities, in Canada, Mexico, and the United States to prepare for climate-related impacts;
A C$750,000 initiative to undertake work to support enhanced uptake of circular economy approaches with sustainable production and consumption patterns in North America;
A large-scale and multi-year initiative totaling C$1 million to strengthen community resilience to climate change;
Contribution of C$300,000 to support an initiative led by the Joint Public Advisory Committee (JPAC), that will raise awareness in the three countries to advance sustainable forestry and responsible consumption of wood products;
The endorsement of a C$300,000 initiative, to be led by the Traditional Ecological Knowledge Expert Group (TEKEG) to address threats to food security by increasing our understanding of traditional Indigenous practices and knowledge related to food systems;
The winners of the 2022 CEC Youth Innovation Challenge who presented an impressive array of innovative and tangible solutions to assist North American communities in their recovery from the COVID-19 pandemic.
Our virtual exhibit will still be available on the vFairs virtual platform for another month, so be sure to check it out here!
On a final note, thank you to everyone for engaging on social media and for using our event hashtags (#CEC29, #CCA29, #CCE29) with 1,742 posts – totaling an event hashtag reach of nearly 25 million people!
It's not too late to be part of the conversation! You can find our event photos and b-roll here and may continue posting about CEC29. We encourage you to share your participation in this historic event as we emerge from the pandemic stronger and bolder than ever before.
The CEC29 Google Drive is available here.
For updates about CEC initiatives and news, sign up for our newsletter and follow us on social media.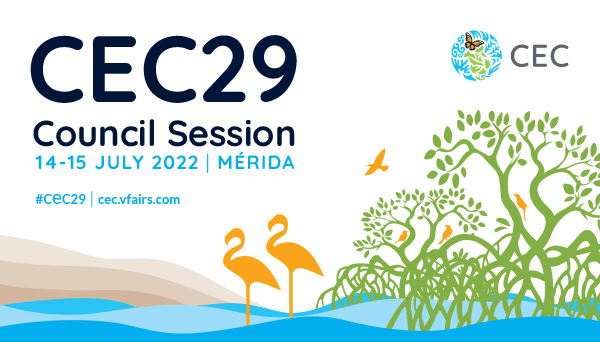 About the CEC
The Commission for Environmental Cooperation (CEC) was established in 1994 by the governments of Canada, Mexico and the United States through the North American Agreement on Environmental Cooperation, a parallel environmental agreement to NAFTA. As of 2020, the CEC is recognized and maintained by the Environmental Cooperation Agreement, in parallel with the new Free Trade Agreement of North America. The CEC brings together a wide range of stakeholders, including the general public, Indigenous people, youth, nongovernmental organizations, academia, and the business sector, to seek solutions to protect North America's shared environment while supporting sustainable development for the benefit of present and future generations
The CEC is governed and funded equally by the Government of Canada through Environment and Climate Change Canada, the Government of the United States of Mexico through the Secretaría de Medio Ambiente y Recursos Naturales, and the Government of the United States of America through the Environmental Protection Agency.