Register now for #CEC28 and submit your questions to North America's environmental leaders
Date & Time:
9 September, 2021
Youth Roundtable Discussion: 10:00 AM-12:00 PM ET
Joint Public Advisory Committee (JPAC) Public Forum: 1:00-3:00 PM ET
10 September, 2021
CEC Council Public Meeting: 2:00-4:00 PM ET
Location:
Cvent virtual hub.
September 9-10, 2021
Registered attendees can send questions on Sli.do using event code #CEC28 to get live responses during the event!
If you would like to know more about CEC initiatives you can sign up for our newsletter and follow us on social media.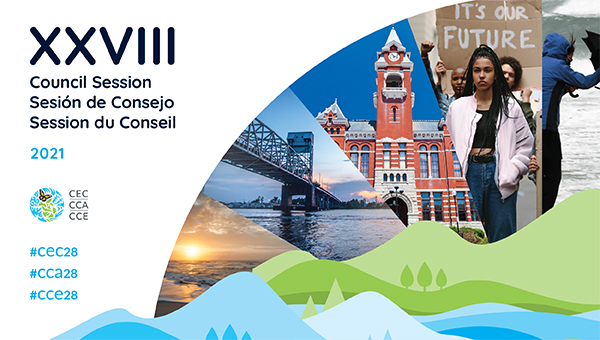 About the CEC
The Commission for Environmental Cooperation (CEC) was established in 1994 by the governments of Canada, Mexico and the United States through the North American Agreement on Environmental Cooperation, a parallel environmental agreement to NAFTA. As of 2020, the CEC is recognized and maintained by the Environmental Cooperation Agreement, in parallel with the new Free Trade Agreement of North America. The CEC brings together a wide range of stakeholders, including the general public, Indigenous people, youth, nongovernmental organizations, academia, and the business sector, to seek solutions to protect North America's shared environment while supporting sustainable development for the benefit of present and future generations
The CEC is governed and funded equally by the Government of Canada through Environment and Climate Change Canada, the Government of the United States of Mexico through the Secretaría de Medio Ambiente y Recursos Naturales, and the Government of the United States of America through the Environmental Protection Agency.