»
»
Join CEC's Public Forums in Oaxaca, Mexico: Trinational Indigenous Forum...
Join CEC's Public Forums in Oaxaca, Mexico: Trinational Indigenous Forum & JPAC Public Forum, 27-29 November 2023
The Commission for Environmental Cooperation (CEC) Traditional Ecological Knowledge (TEK) Expert Group and Joint Public Advisory Committee (JPAC) are pleased to invite all interested groups and individuals to participate in two public forums in Oaxaca, Mexico from 27 to 29 November 2023.
The environmental challenges we face today, as a result of climate change, biodiversity loss and pollution, are impacting the whole of society, but Indigenous Peoples and local communities as well as marginalized and vulnerable populations are experiencing these impacts much more deeply.
Properly managing freshwater resources to address increased pollution, habitat degradation, and extreme weather events, among other emerging challenges, has never been more critical. Across North America, protecting this precious resource is a shared concern for communities, governments and industry. Indigenous-led and community-led conservation efforts to sustainably manage land and waters, as well as drive nature-positive outcomes, have never been more crucial.
27 & 28 November:
The two-day "Trinational Forum on Indigenous Approaches to Freshwater Management in North America," organized by the TEK Expert Group as part of a broader CEC project to deepen our understanding of Indigenous approaches to freshwater management and help share this knowledge, will explore the vital role of Traditional Ecological Knowledge, Indigenous stewardship practices and the intersection with Indigenous rights in freshwater management across North America.
By recognizing the need to respect Indigenous rights and self-determination, the importance of TEK and by collaborating with Indigenous governments and communities, we can promote inclusive, equitable, and resilient freshwater management practices, protecting water for present and future generations.
29 November:
The "JPAC Public Forum on Community-based Conservation of Freshwater Resources: Forging Alliances for Water Stewardship" on 29 November will bring together community leaders, nongovernmental organizations and other key actors, to discuss water management strategies and highlight community-led efforts to address the multifaceted aspects of freshwater conservation and its sustainable use, with a strong focus on partnerships and alliances.
Whether you are coming to listen and learn or to share your experience and knowledge, all are welcome to engage in this trinational and intergenerational knowledge exchange, whether in person or online.
We look forward to seeing you at both TEK and JPAC Public Forums!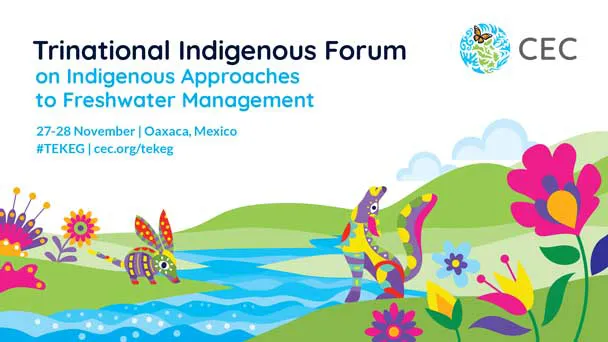 About the CEC
The Commission for Environmental Cooperation (CEC) was established in 1994 by the governments of Canada, Mexico and the United States through the North American Agreement on Environmental Cooperation, a parallel environmental agreement to NAFTA. As of 2020, the CEC is recognized and maintained by the Environmental Cooperation Agreement, in parallel with the new Free Trade Agreement of North America. The CEC brings together a wide range of stakeholders, including the general public, Indigenous people, youth, nongovernmental organizations, academia, and the business sector, to seek solutions to protect North America's shared environment while supporting sustainable development for the benefit of present and future generations
The CEC is governed and funded equally by the Government of Canada through Environment and Climate Change Canada, the Government of the United States of Mexico through the Secretaría de Medio Ambiente y Recursos Naturales, and the Government of the United States of America through the Environmental Protection Agency.