»
»
New CEC StoryMap: "Your Environment Is Changing: But How It Changes Is u...
New CEC StoryMap: "Your Environment Is Changing: But How It Changes Is up to You."
In North America, as everywhere else on our planet, you are deeply connected with the environment in so many ways, whether you realize it or not.
This interactive 'StoryMap' helps us better understand the world around us and demonstrates how the CEC's North American Environmental Atlas can support action, research and decision-making.
By combining images, maps and a story in this way, the StoryMap shows how North America's 500 million inhabitants are all connected through our shared environment. And we are therefore all affected by how it changes—whether naturally or influenced by human activities.
These changes can be better understood through a connected, continental perspective since their implications transcend political borders.
We invite you to check out this "StoryMap," available in English, French and Spanish, and to discover North America through a continental lens and see how your environment is changing all around you.  This critical story will help us to properly see the environmental challenges before us and demonstrate the diverse, complex elements and relationships involved for us to protect, conserve and enhance our shared North American environment.
North American Environmental Atlas
The CEC's North American Environmental Atlas provides seamless geospatial data from Canada, Mexico and the United States that offers a continental perspective on environmental issues. The Atlas and its map viewer allow for the visualization of various environmental aspects, such as terrestrial and marine ecological regions, climate zones, as well as protected areas across the three countries.
If you would like to learn more about CEC initiatives, you can sign up for our newsletter and follow us on social media.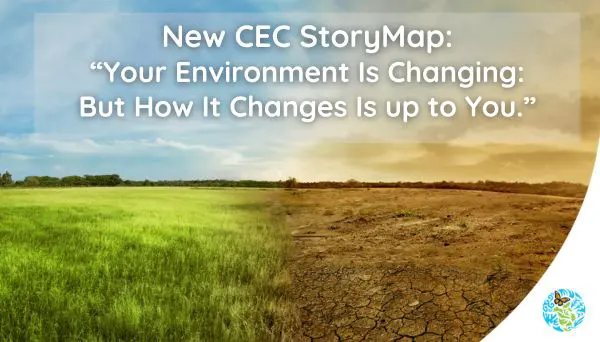 About the CEC
The Commission for Environmental Cooperation (CEC) was established in 1994 by the governments of Canada, Mexico and the United States through the North American Agreement on Environmental Cooperation, a parallel environmental agreement to NAFTA. As of 2020, the CEC is recognized and maintained by the Environmental Cooperation Agreement, in parallel with the new Free Trade Agreement of North America. The CEC brings together a wide range of stakeholders, including the general public, Indigenous people, youth, nongovernmental organizations, academia, and the business sector, to seek solutions to protect North America's shared environment while supporting sustainable development for the benefit of present and future generations
The CEC is governed and funded equally by the Government of Canada through Environment and Climate Change Canada, the Government of the United States of Mexico through the Secretaría de Medio Ambiente y Recursos Naturales, and the Government of the United States of America through the Environmental Protection Agency.