»
»
Last Green Entrepreneur Workshop: 31 March 2022
Last Green Entrepreneur Workshop: 31 March 2022
Join our workshop on Succeeding as a Student with a Green Startup. This session will offer tips, tricks and lessons learned from students that are also entrepreneurs who are balancing their entrepreneurship careers and their studies.
The event, hosted by the Commission for Environmental Cooperation's  EcoInnovation Network and UWaterloo's Environment @ Entrepreneurship Office, is offered free of charge to entrepreneurs interested in understanding how to integrate sustainability into their business models.
You will hear from young entrepreneurs and leaders from across North America including:
Niria Garcia, Director, Thriving Communities and former UNEP Young Champion for the Earth recipient

Keynote speaker/Opening remarks
Integrating traditional knowledge with new technology
Intergenerational mentorship

Gregorio Allan Rodríguez Ortiz, Co-Founder Ingenia Concretos

Turning ideas into action
How to use your studies as a starting point for entrepreneurship
Success stories and lessons learned

Gabriel Saunders, Founder of Decomp, 2021 Youth Innovation Challenge Winner

Turning ideas into action
How to use your studies as a starting point for entrepreneurship
Success stories and lessons learned
This session will be facilitated by Nick Palaschuk, University of Waterloo Doctoral Candidate, Energy Council of Canada Research Fellow and EcoInnovation Network Youth Ambassador
Some key themes for this session:
Turning ideas into action: Advice for students who are eager to address social/environmental issues though entrepreneurship.
Resources and opportunities for students as they continue their entrepreneurial journey
Success stories and lessons learned from student and youth entrepreneurs
Uniqueness of youth and student entrepreneurship
Register now for the Green Entrepreneurship Workshop Series and view the complete agenda here.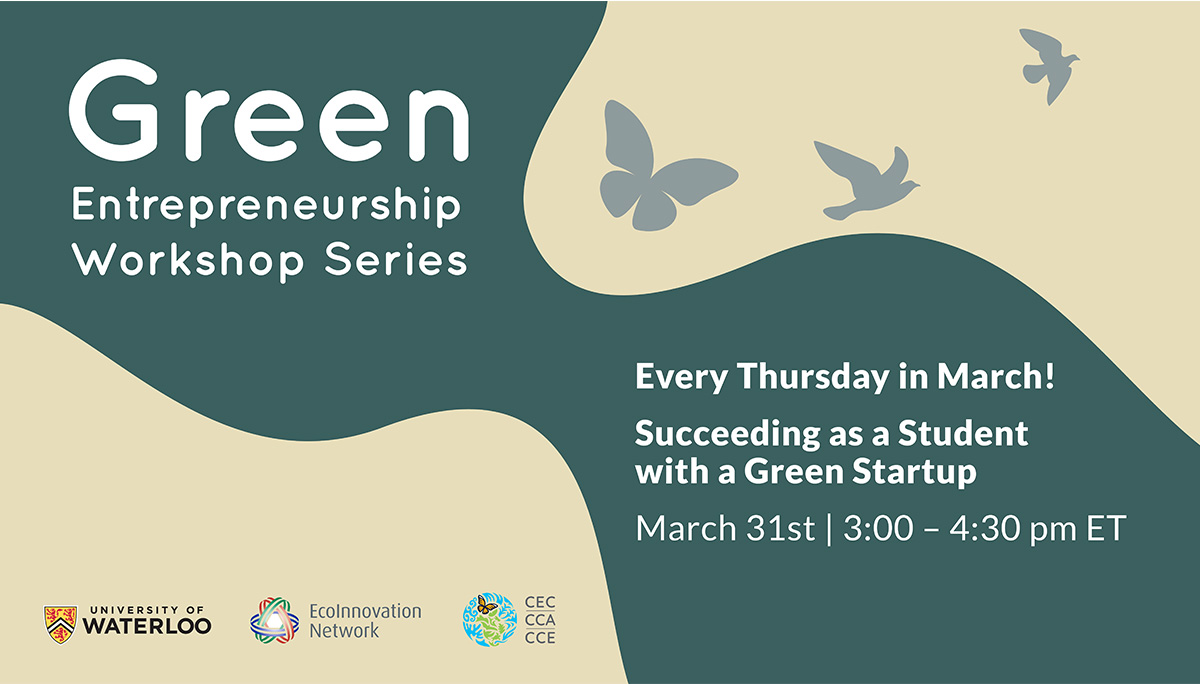 About the CEC
The Commission for Environmental Cooperation (CEC) was established in 1994 by the governments of Canada, Mexico and the United States through the North American Agreement on Environmental Cooperation, a parallel environmental agreement to NAFTA. As of 2020, the CEC is recognized and maintained by the Environmental Cooperation Agreement, in parallel with the new Free Trade Agreement of North America. The CEC brings together a wide range of stakeholders, including the general public, Indigenous people, youth, nongovernmental organizations, academia, and the business sector, to seek solutions to protect North America's shared environment while supporting sustainable development for the benefit of present and future generations
The CEC is governed and funded equally by the Government of Canada through Environment and Climate Change Canada, the Government of the United States of Mexico through the Secretaría de Medio Ambiente y Recursos Naturales, and the Government of the United States of America through the Environmental Protection Agency.