»
»
Join Us for Our JPAC Public Forum on the Role of Ports in Fighting Clima...
Join Us for Our JPAC Public Forum on the Role of Ports in Fighting Climate Change
Be a part of our upcoming hybrid Public Forum hosted by the Commission for Environmental Cooperation's Joint Public Advisory Committee (JPAC) in Halifax on 1 December. This public forum will focus on exploring the role of ports in fighting climate change, centered on the topic of "Moving the Needle Toward Industry Decarbonization."
Ports as strategic infrastructures for fighting climate change
Ports play a vital role in supporting local and global economies, handling around 80% of global trade. At the same time, they are uniquely positioned to act as decarbonization hubs, support energy transition, and contribute to improving environmental conditions in local communities.
For North American ports to play a larger role in leading environmental initiatives, greater collaboration across the value-chain and between private and public organizations needs to be achieved.
Expert-led discussions at the JPAC hybrid forum
This JPAC Public Forum will serve as a platform to bring together experts from all sectors, including industry representatives, NGOs, government representatives, and academia, to discuss the role of ports in fighting climate change, including opportunities to support industry decarbonization, green their operations, as well as the social and environmental justice dimensions of port activities.
Key highlights to look forward to at the upcoming JPAC forum:
The Role of Ports in Climate Mitigation
Green Shipping Corridors as a Tool for Industry Decarbonization
Zero-emission Fuels and Infrastructure
Environmental and Social Justice Dimensions of Ports
An opportunity for public participants to engage with JPAC members and experts during the Moderated Public Engagement Session on the forum's theme, "The Role of Ports in Fighting Climate Change"
Mark your calendars
The JPAC Public Forum will be held in person in Halifax at the Marriot Harbourfront Hotel and virtually.
Click here to register either as an in-person or virtual attendee. Event details are as follows:
Date: 1 December 2022
Time: 9:00 – 17:00 Atlantic Time (UTC-4)
Venue: Halifax Marriot Harbourfront Hotel and online
For questions or more information, please contact: Catherine Boyd Michaud at cboydmichaud@cec.org.
We look forward to seeing you at the JPAC Public Forum!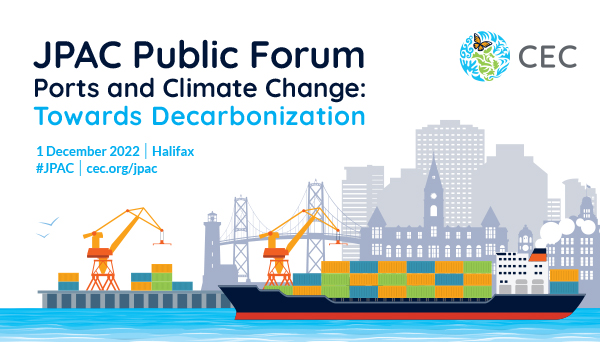 About the CEC
The Commission for Environmental Cooperation (CEC) was established in 1994 by the governments of Canada, Mexico and the United States through the North American Agreement on Environmental Cooperation, a parallel environmental agreement to NAFTA. As of 2020, the CEC is recognized and maintained by the Environmental Cooperation Agreement, in parallel with the new Free Trade Agreement of North America. The CEC brings together a wide range of stakeholders, including the general public, Indigenous people, youth, nongovernmental organizations, academia, and the business sector, to seek solutions to protect North America's shared environment while supporting sustainable development for the benefit of present and future generations
The CEC is governed and funded equally by the Government of Canada through Environment and Climate Change Canada, the Government of the United States of Mexico through the Secretaría de Medio Ambiente y Recursos Naturales, and the Government of the United States of America through the Environmental Protection Agency.