Join the conversation on how to reduce Food Loss and Waste in North America #FLWChat
To celebrate the International Day of Awareness of Food Loss and Waste, join the Commission for Environmental Cooperation (CEC) and the UN Food and Agriculture Organization (FAO) Office for North America for a Twitter discussion on food loss and waste in North America (#FLWChat)!
Preventing and reducing food loss and waste could significantly transform our broader food systems by helping to improve food security, supporting greater food safety and quality, and enabling countries to achieve their climate commitments by curbing harmful methane emissions.
During an hour-long chat, to be held on September 29 at 3:00 pm ET, food loss and waste practitioners, experts, engaged communities, and the general public will engage to rethink the ways that we produce, handle, and consume our food. Together, participants in the chat will highlight actions and solutions to prevent and reduce food loss and waste!
Mark your calendar and join the chat by sharing methods, questions, and ideas for preventing and reducing food loss and waste in North America, using the hashtag #FLWChat. See you on #FLWDay!
To be part of this conversation in English, Spanish, or French, follow @CECweb, @CCA_Espanol and @CCE_Francais and the hashtags #FLWChat, #FLWDay and #IDAFLW.
Learn more about the event here.
See what our last #FLWChat looked like, here.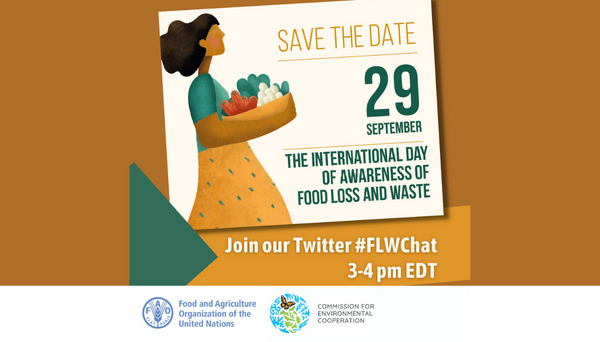 About the CEC
The Commission for Environmental Cooperation (CEC) was established in 1994 by the governments of Canada, Mexico and the United States through the North American Agreement on Environmental Cooperation, a parallel environmental agreement to NAFTA. As of 2020, the CEC is recognized and maintained by the Environmental Cooperation Agreement, in parallel with the new Free Trade Agreement of North America. The CEC brings together a wide range of stakeholders, including the general public, Indigenous people, youth, nongovernmental organizations, academia, and the business sector, to seek solutions to protect North America's shared environment while supporting sustainable development for the benefit of present and future generations
The CEC is governed and funded equally by the Government of Canada through Environment and Climate Change Canada, the Government of the United States of Mexico through the Secretaría de Medio Ambiente y Recursos Naturales, and the Government of the United States of America through the Environmental Protection Agency.