»
»
Join the CEC at UN Biodiversity Conference #COP15 at These Side Events a...
Join the CEC at UN Biodiversity Conference #COP15 at These Side Events and Opportunities
Are you one of the nearly 20,000 people attending COP15? The 2022 United Nations Biodiversity conference runs from 7-19 December and the CEC is fortunate that such a crucial event is taking place just a couple blocks from the CEC Secretariat offices.
There will be multiple opportunities to join events with the CEC, to hear about our work, and to speak with experts and members of the Secretariat.
9 December 2022: Communicating Behavior Change in North America
From 8:30 to 9:30am Eastern Time, join the CEC as we kick off day two of the Communication, Education and Public Awareness (CEPA) Fair, in person in room 220b.
This side event will offer guests and panelists an opportunity to engage in a discussion on enabling behavior change and public awareness among interconnected systems and networks. Speakers from across North America will reflect on creative communications, innovation, research, community development and behavior change. The event will highlight lessons learned, challenges, and emergent methodologies for building capacity, education and change.
Speakers:
More information can be found here on the Convention on Biological Diversity website.
14 December 2022: Montreal: Hub of International Action on Biodiversity
The CEC will be presenting during a side event hosted by Montreal International, taking place from 1:15 to 2:45pm Eastern Time in room 516C, highlighting the work of international organizations based in Montreal engaged in protecting biodiversity and advancing sustainable development.
The event will follow a roundtable structure and will include concrete examples of projects from Montreal-based international organizations, showcasing their complementary relationships and contribution to a whole-of-society and holistic approach to biodiversity.
The CEC will be presenting on building international collaborations to strengthen biodiversity conservation, highlighting the International Monarch Monitoring Blitz and showcasing the value of regional cooperation, community engagement and awareness campaigns across North America, as ecosystems and species know no borders.
You can learn more about the side event here.
Opportunity to learn more about our work on ecosystems and other priority topics
Additionally, CEC will be available to talk about our work on ecosystems at booth #503 on 12 December from 1-6pm and on 14 December from 9am-1pm. We will pleased to speak with you about our work related to biodiversity.
We hope to see you at COP15!
We encourage you to follow along with CEC COP15 updates here and if you would like to know more about CEC initiatives you can sign up for our newsletter and follow us on social media.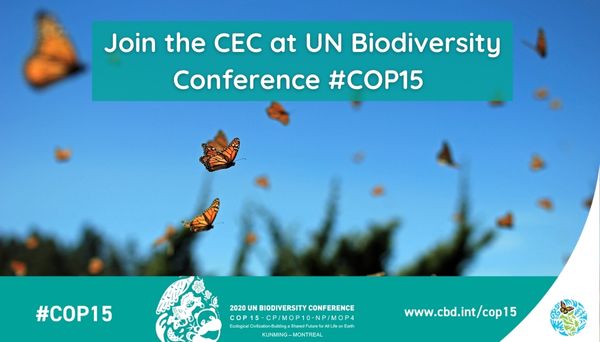 About the CEC
The Commission for Environmental Cooperation (CEC) was established in 1994 by the governments of Canada, Mexico and the United States through the North American Agreement on Environmental Cooperation, a parallel environmental agreement to NAFTA. As of 2020, the CEC is recognized and maintained by the Environmental Cooperation Agreement, in parallel with the new Free Trade Agreement of North America. The CEC brings together a wide range of stakeholders, including the general public, Indigenous people, youth, nongovernmental organizations, academia, and the business sector, to seek solutions to protect North America's shared environment while supporting sustainable development for the benefit of present and future generations
The CEC is governed and funded equally by the Government of Canada through Environment and Climate Change Canada, the Government of the United States of Mexico through the Secretaría de Medio Ambiente y Recursos Naturales, and the Government of the United States of America through the Environmental Protection Agency.