»
»
Join the CEC at our COP27 Side Event on Climate Adaptation
Join the CEC at our COP27 Side Event on Climate Adaptation
The Commission for Environmental Cooperation (CEC) is at the 2022 United Nations Climate Change Conference (COP27), taking place in Sharm el-Sheikh, Egypt, from 6 to 18 November 2022.
If you are attending COP27, join the CEC for a discussion on regional collaboration to address climate-related impacts. This side event, titled Canada, the United States, and Mexico: Working Together on Climate Adaptation Solutions for North America, will take place at the Canadian Pavilion (Building 8 of Area B) on 10 November 2022 at 12:30pm Egypt Standard Time (UTC +02:00).
During this event the CEC Council's Alternate Representatives, CEC Executive Director Jorge Daniel Taillant, JPAC member Felicia Marcus, and CEC collaborator Kerry-Ann Charles of the Chippewas of Georgina Island First Nation, will present CEC's collaborative work and numerous successes in strengthening resilience and supporting climate adaptation, including at the local level.
The overarching objective of the discussion is to provide input for delegates, representatives of Indigenous communities, and other countries to design and implement regional, collaborative, science-based mitigation and adaptation projects. Read more about this event here.
We hope to see you at COP27!
Follow along with CEC COP27 updates here.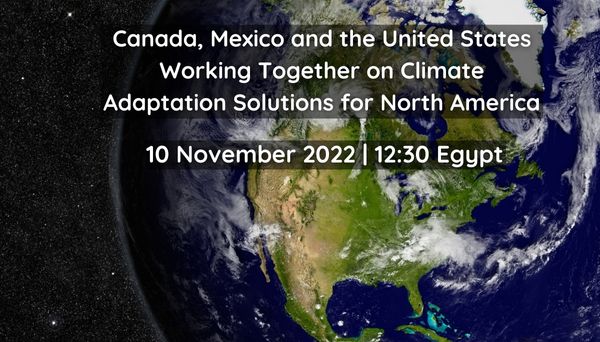 About the CEC
The Commission for Environmental Cooperation (CEC) was established in 1994 by the governments of Canada, Mexico and the United States through the North American Agreement on Environmental Cooperation, a parallel environmental agreement to NAFTA. As of 2020, the CEC is recognized and maintained by the Environmental Cooperation Agreement, in parallel with the new Free Trade Agreement of North America. The CEC brings together a wide range of stakeholders, including the general public, Indigenous people, youth, nongovernmental organizations, academia, and the business sector, to seek solutions to protect North America's shared environment while supporting sustainable development for the benefit of present and future generations
The CEC is governed and funded equally by the Government of Canada through Environment and Climate Change Canada, the Government of the United States of Mexico through the Secretaría de Medio Ambiente y Recursos Naturales, and the Government of the United States of America through the Environmental Protection Agency.