»
»
Have Your Say: Public Consultation on CEC's New Communities for Environm...
Have Your Say: Public Consultation on CEC's New Communities for Environmental Justice Network Project
In the coming months, the Commission for Environmental Cooperation will work with communities across North America to start the implementation of a Communities for Environmental Justice Network (CEJN) project. As we advance the creation of this network, the Joint Public Advisory Committee (JPAC) is hosting a public consultation to help inform and strengthen the project's implementation.
The CEJN aims to provide a forum that offers exchange, relationship, and capacity building for communities that have experience or concerns dealing with environmental justice. By participating in the network, communities will collaboratively develop resources and disseminate knowledge for the benefit of Indigenous, local, vulnerable, disadvantaged, and/or underserved communities. Founding members of the network will develop a virtual resource library aimed at supporting climate mitigation and adaptation capacity in communities across North America.
The full text of the draft project description is available here.
JPAC invites individuals, communities, and organizations across North America, with knowledge on issues related to community and network development, environmental justice, as well as climate mitigation and adaptation, to learn more and submit comments, perspectives, and ideas here.
Based on comments received from the public, JPAC members will provide an official Advice to the Council of the CEC, which is composed of the environment ministers of Canada, Mexico and the United States. The Advice will include recommendations to maximize the project's successful implementation.
The deadline to submit comments is 23 November 2022.
What would we like to know?
Questions:
What are some common challenges faced by communities in considering environmental justice frameworks to address climate change adaptation and mitigation?
What suggestions do you have for network building among communities that are addressing climate change adaptation and mitigation through the lens of environmental justice? Do you have any specific recommendations for ensuring that the collaborative network will be long-lasting and self-sustaining?
Please share examples of effective tools, resources, or products (e.g., websites, videos, infographics, pamphlets, etc.) that your community or organization has used to share information about climate adaption and mitigation with other communities or among your network of environmental justice collaborators.
Do you know of any agencies, organizations, institutions, or communities (e.g., academic institutions, local networks, community representatives, youth organizations, etc.) who would be interested in receiving information about the Communities for Environmental Justice Network? If so, please include name(s), main contact details (email) and website.
Please provide any additional comments you would like to share with us about the project.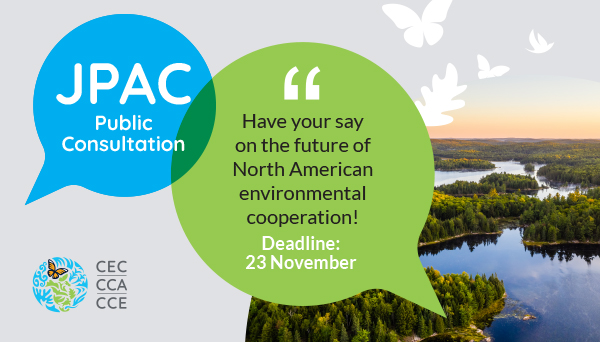 About the CEC
The Commission for Environmental Cooperation (CEC) was established in 1994 by the governments of Canada, Mexico and the United States through the North American Agreement on Environmental Cooperation, a parallel environmental agreement to NAFTA. As of 2020, the CEC is recognized and maintained by the Environmental Cooperation Agreement, in parallel with the new Free Trade Agreement of North America. The CEC brings together a wide range of stakeholders, including the general public, Indigenous people, youth, nongovernmental organizations, academia, and the business sector, to seek solutions to protect North America's shared environment while supporting sustainable development for the benefit of present and future generations
The CEC is governed and funded equally by the Government of Canada through Environment and Climate Change Canada, the Government of the United States of Mexico through the Secretaría de Medio Ambiente y Recursos Naturales, and the Government of the United States of America through the Environmental Protection Agency.