»
»
DEADLINE EXTENSION: 'EJ4Climate' Grant Program
DEADLINE EXTENSION: 'EJ4Climate' Grant Program
The North American Commission for Environmental Cooperation (CEC) is now accepting applications for grants and cooperative agreements to be funded under the EJ4Climate grant program. The deadline for proposals has been extended to 21 November 2021 and projects will begin implementation in February 2022.
EJ4Climate is a first-of-its-kind US$2 million grant program, to support environmental justice and climate resilience for underserved, vulnerable communities, and Indigenous communities across North America.
Eligible applicants include non-profit and non-governmental organizations, environmental groups, community-based associations, tribal nations, and Indigenous Peoples and communities.
For more information on this new environmental justice and climate resilience grant program go to cec.org/EJ4Climate.
If you would like to know more about CEC initiatives you can sign up for our newsletter and follow us on social media.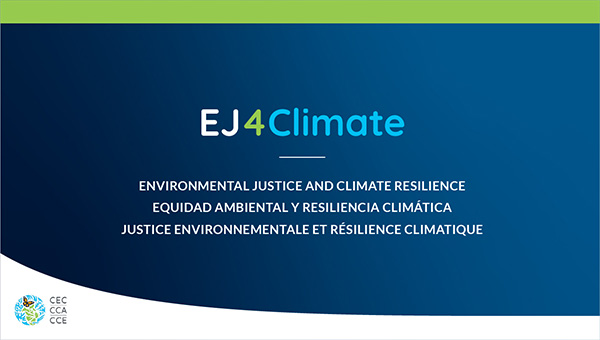 About the CEC
The Commission for Environmental Cooperation (CEC) was established in 1994 by the governments of Canada, Mexico and the United States through the North American Agreement on Environmental Cooperation, a parallel environmental agreement to NAFTA. As of 2020, the CEC is recognized and maintained by the Environmental Cooperation Agreement, in parallel with the new Free Trade Agreement of North America. The CEC brings together a wide range of stakeholders, including the general public, Indigenous people, youth, nongovernmental organizations, academia, and the business sector, to seek solutions to protect North America's shared environment while supporting sustainable development for the benefit of present and future generations
The CEC is governed and funded equally by the Government of Canada through Environment and Climate Change Canada, the Government of the United States of Mexico through the Secretaría de Medio Ambiente y Recursos Naturales, and the Government of the United States of America through the Environmental Protection Agency.