»
»
Deadline Extension: 2023 Youth Innovation Challenge
Deadline Extension: 2023 Youth Innovation Challenge
Help us spread the word! The deadline to submit solutions for the 2023 Youth Innovation Challenge has been extended to 10 April 2023 at 11:59 PM (local time).
With the theme Water Solutions for Sustainable Development, the 2023 challenge invites North American youth, ages 18 to 30, to propose innovative solutions that address and respond to critical issues related to water including:
The increase in the frequency of droughts, deforestation, forest fires and floods
Climate change
The release of toxic chemicals to surface waters
The depletion of groundwater
The litter and leakage of plastics, nutrients, and emerging pollutants into the water supply
Other critical issues related to water
If you have an innovative solution related to this year's theme, you still have time to submit your solution for a chance to win up to $15K CAD in seed funding, the opportunity to present your solution to North America's top environmental officials, and networking and mentorship opportunities!
We encourage you to please share this information with any relevant networks so that more people can find out about this unique opportunity.
You can check out CEC social media posts to easily share with your network here: https://linktr.ee/CEC_Social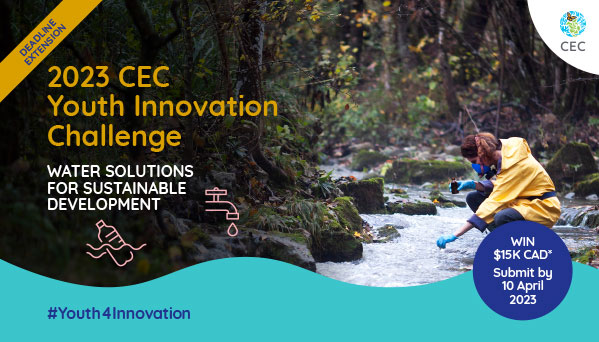 About the CEC
The Commission for Environmental Cooperation (CEC) was established in 1994 by the governments of Canada, Mexico and the United States through the North American Agreement on Environmental Cooperation, a parallel environmental agreement to NAFTA. As of 2020, the CEC is recognized and maintained by the Environmental Cooperation Agreement, in parallel with the new Free Trade Agreement of North America. The CEC brings together a wide range of stakeholders, including the general public, Indigenous people, youth, nongovernmental organizations, academia, and the business sector, to seek solutions to protect North America's shared environment while supporting sustainable development for the benefit of present and future generations
The CEC is governed and funded equally by the Government of Canada through Environment and Climate Change Canada, the Government of the United States of Mexico through the Secretaría de Medio Ambiente y Recursos Naturales, and the Government of the United States of America through the Environmental Protection Agency.