»
»
#CEC27: Find out what you need to know about the USMCA and the environment
#CEC27: Find out what you need to know about the USMCA and the environment
What will the new trade agreement between Canada, Mexico and the United States mean for environmental collaboration across the continent?
Join the 27th annual meeting of the Joint Public Advisory Council (JPAC) to learn how the United States-Mexico-Canada Agreement (USMCA) will address environmental issues linked to increased commerce such as marine litter, sustainable trade in species, air pollution and more.
Hear from:
Jean-Frédéric Morin, Chairholder, Canada Research Chair in International Political Economy and Full Professor at the Political Science Department of Université Laval
Robert Moyer, Director, Submissions on Enforcement Matters and Legal Unit, Commission for Environmental Cooperation
Later that day – hear from winners of the CEC's Youth Innovation Challenge
Launched earlier this year, the fourth annual CEC Youth Innovation Challenge called on youth aged 18 to 30 to submit innovative technological, scientific and business solutions to advance sustainability and green growth.
This year's winning innovations are all women-led projects and include solutions designed to combat food-waste and reduce the use of plastics with compostable, plant-based products.
Register for the CEC Council Session livestream to learn more about the three winning solutions and hear them presented to North America's top environmental leaders.
Tag your #CleanTechChampions
A better environment for tomorrow depends on the actions we take today. You can start right now: Tag the communities, leaders, builders, innovators and youth leading the way on resilience and clean technology, and invite them to join North America's environment ministers for the 2020 CEC Council Session on June 26th.
Tell us who they are and why they should join the 2020 CEC Council Session! Tag them using #CleanTechChampions and #CEC27.
Follow us online and on Twitter, Facebook, LinkedIn and Instagram for event updates and to connect about the 2020 Council Session using the hashtag #CEC27.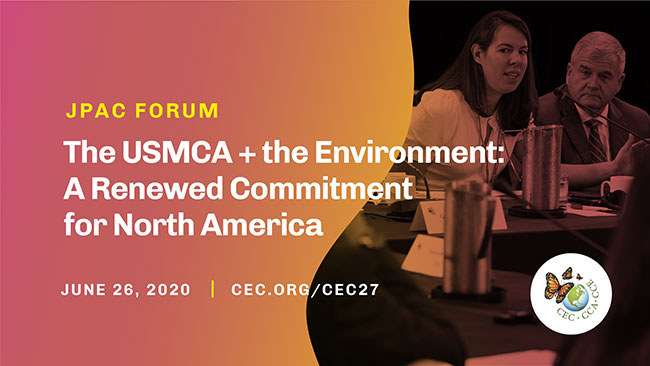 About the CEC
The Commission for Environmental Cooperation (CEC) was established in 1994 by the governments of Canada, Mexico and the United States through the North American Agreement on Environmental Cooperation, a parallel environmental agreement to NAFTA. As of 2020, the CEC is recognized and maintained by the Environmental Cooperation Agreement, in parallel with the new Free Trade Agreement of North America. The CEC brings together a wide range of stakeholders, including the general public, Indigenous people, youth, nongovernmental organizations, academia, and the business sector, to seek solutions to protect North America's shared environment while supporting sustainable development for the benefit of present and future generations
The CEC is governed and funded equally by the Government of Canada through Environment and Climate Change Canada, the Government of the United States of Mexico through the Secretaría de Medio Ambiente y Recursos Naturales, and the Government of the United States of America through the Environmental Protection Agency.