»
»
CEC TEK Expert Henrietta Mann Receives National Humanities Medal from U....
CEC TEK Expert Henrietta Mann Receives National Humanities Medal from U.S. President Joe Biden
Dr. Henrietta Mann, a distinguished leader in Native American studies, and historian, activist and member of the CEC's Traditional Ecological Knowledge Expert Group (TEKEG), was just awarded the National Humanities Medal by U.S. President Joe Biden, during a ceremony held at the White House on 21 March.
Dr. Mann, a Cheyenne-Arapaho tribal leader and scholar, was honored along with other distinguished recipients, including writers, historians, educators and activists. Dr. Mann is founding president of the Cheyenne and Arapaho Tribal College in Weatherford, Oklahoma. She has been a professor and administrator at numerous colleges and universities and has received many accolades for her leadership in education.
The National Humanities Medal honors an individual or organization whose work has deepened the nation's understanding of the human experience, broadened citizens' engagement with history or literature, or helped preserve and expand Americans' access to cultural resources.
CEC Executive Director Jorge Daniel Taillant expressed the great sense of pride on behalf of the CEC that one of the CEC's Traditional Ecological Knowledge (TEK) experts, was recognized by a head of state for her leadership and lifelong contributions.  "It gives us a deep sense of respect and gratitude that Dr. Henrietta Mann was honored by U.S. President Joe Biden for her incisive work over so many years to address Native American issues through education initiatives across North America. As a member of our TEK Expert Group, Henrietta's devotion and dedication to preserving the traditional knowledge and practices of Indigenous communities across North America is remarkable and inspirational for generations to come. On behalf of everyone in the broader CEC family, let's all recognize and celebrate Dr. Mann's much deserved award."
To learn more about the work of the TEK Expert Group, click here.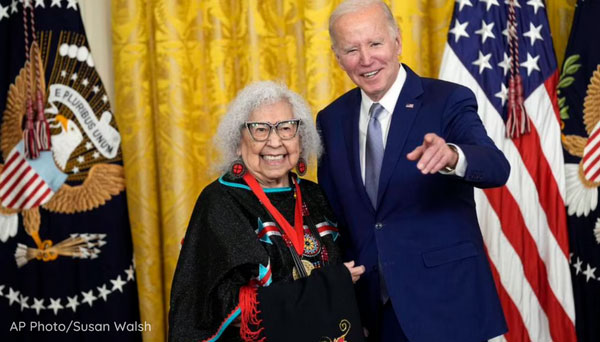 About the CEC
The Commission for Environmental Cooperation (CEC) was established in 1994 by the governments of Canada, Mexico and the United States through the North American Agreement on Environmental Cooperation, a parallel environmental agreement to NAFTA. As of 2020, the CEC is recognized and maintained by the Environmental Cooperation Agreement, in parallel with the new Free Trade Agreement of North America. The CEC brings together a wide range of stakeholders, including the general public, Indigenous people, youth, nongovernmental organizations, academia, and the business sector, to seek solutions to protect North America's shared environment while supporting sustainable development for the benefit of present and future generations
The CEC is governed and funded equally by the Government of Canada through Environment and Climate Change Canada, the Government of the United States of Mexico through the Secretaría de Medio Ambiente y Recursos Naturales, and the Government of the United States of America through the Environmental Protection Agency.