»
»
CEC and the University of Waterloo's Entrepreneurship at Environme...
CEC and the University of Waterloo's Entrepreneurship at Environment Office Launch Green Entrepreneurship Workshop Series
Montreal, 1 February 2022—The University of Waterloo's Entrepreneurship at Environment Office and the Commission for Environmental Cooperation's (CEC) EcoInnovation Network are hosting a five-part workshop series supporting sustainability in entrepreneurship.
To address the global shift to a greener and more sustainable economy, each 90-minute workshop will focus on entrepreneurship and sustainability. The content is tailored to students, researchers, entrepreneurs, and environmental advocates. Featured speakers include experts from academia, business, government, youth, and community organizations.
Register now for the 2022 Green Entrepreneurship Online Workshop Series. The workshops are free of charge and open to anyone interested in understanding how to integrate sustainability and entrepreneurship.
2022 GREEN ENTREPRENEURSHIP WORKSHOP SERIES
Every Thursday in March from 3:00-4:30 PM EST
3 March: Green Entrepreneurship
10 March: Private Enterprise and New Entrepreneurs: How Established Companies Can Support New Entrepreneurs
17 March: Entrepreneurship and the UN Sustainable Development Goals
24 March: Championing Indigenous Youth Startups
31 March: Succeeding as a Student with a Green Startup
Last year, more than 1,000 participants from 29 countries participated in the inaugural green entrepreneurship workshop series, including 900 from Canada, Mexico and the United States. The recordings of these workshops are also available for viewing in English, French and Spanish via the CEC's YouTube Channel.
The University of Waterloo is one of the most productive entrepreneurial ecosystems in the world and a founding member of the Commission for Environmental Cooperation's EcoInnovation Network. Much like the intent of these online workshops, the Network's goal is to empower youth across North America with the tools and resources needed to succeed in green entrepreneurship. It aims to share valuable examples of North American innovation to the world.
If you would like to know more about CEC initiatives you can sign up for our newsletter and follow us on social media.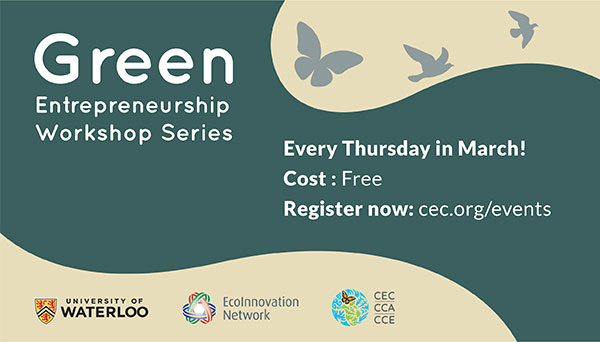 About the CEC
The Commission for Environmental Cooperation (CEC) was established in 1994 by the governments of Canada, Mexico and the United States through the North American Agreement on Environmental Cooperation, a parallel environmental agreement to NAFTA. As of 2020, the CEC is recognized and maintained by the Environmental Cooperation Agreement, in parallel with the new Free Trade Agreement of North America. The CEC brings together a wide range of stakeholders, including the general public, Indigenous people, youth, nongovernmental organizations, academia, and the business sector, to seek solutions to protect North America's shared environment while supporting sustainable development for the benefit of present and future generations
The CEC is governed and funded equally by the Government of Canada through Environment and Climate Change Canada, the Government of the United States of Mexico through the Secretaría de Medio Ambiente y Recursos Naturales, and the Government of the United States of America through the Environmental Protection Agency.