»
»
Biodiversity Day 2023 — 'From Agreement to Action: Build Back Biodiversity'
Biodiversity Day 2023 — 'From Agreement to Action: Build Back Biodiversity'
On this year's International Day for Biological Diversity we are calling on everyone to move 'From Agreement to Action and Build Back Biodiversity.'
We're proud to have participated in COP15 held right here in Montreal, where 188 nations signed on to the historic Kunming-Montreal Global Biodiversity Framework putting forth an ambitious plan for 'transformative change' to reach our global biodiversity conservation goals.
In this climate crisis that we are facing, we need everyone to engage in a whole-of-society and whole-of-government approach to protecting biodiversity.
2023 is a critical year to accelerate progress on our Global Goals, to protect and to enhance our shared environment and to ensure we achieve environmental justice for the most climate-vulnerable. And in our efforts to tackle climate change we can and must employ nature-based solutions in our mix of solutions, elevating Traditional Ecological Knowledge and Indigenous-led conservation.
As ecosystems and species know no borders, from our North American platform at the CEC, and working closely with the Governments of Canada, Mexico and the United States, we're fostering a regional approach for biodiversity conservation, emphasizing trilateral connectivity and a regional environmental identity.
We're supporting habitat conservation for migratory birds in the Central Grasslands of North America, advancing pollinator conservation by sharing tools to organize native bee inventories and improve monitoring, and supporting a network of ecologically-representative and connected Marine Protected Areas and Other Effective Area-based Conservation Measures.
Every summer, we and our North American partners engage individuals and communities with the International Monarch Monitoring Blitz, supporting science and conservation actions by sharing observations of monarch butterflies and milkweed to better understand the Monarchs' status and migration patterns.
Through our EJ4Climate and NAPECA grant programs we're empowering local communities to take matters into their own hands to address environmental challenges and the effects of climate change in North America, with many of the nearly 40 ongoing projects that we support being biodiversity-positive and well-aligned with the new Biodiversity Framework.
On behalf of the Commission for Environmental Cooperation I encourage you to join the environmental movement and act, collaborate, empower others, and do your part to help build back biodiversity and address our planetary climate crises. I look forward to this year of action for biodiversity to build momentum for this critical decade in human and planetary history.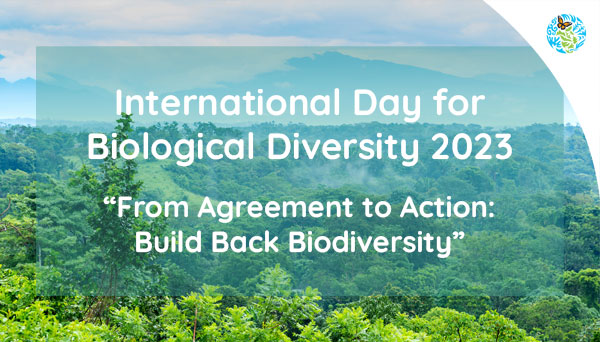 About the CEC
The Commission for Environmental Cooperation (CEC) was established in 1994 by the governments of Canada, Mexico and the United States through the North American Agreement on Environmental Cooperation, a parallel environmental agreement to NAFTA. As of 2020, the CEC is recognized and maintained by the Environmental Cooperation Agreement, in parallel with the new Free Trade Agreement of North America. The CEC brings together a wide range of stakeholders, including the general public, Indigenous people, youth, nongovernmental organizations, academia, and the business sector, to seek solutions to protect North America's shared environment while supporting sustainable development for the benefit of present and future generations
The CEC is governed and funded equally by the Government of Canada through Environment and Climate Change Canada, the Government of the United States of Mexico through the Secretaría de Medio Ambiente y Recursos Naturales, and the Government of the United States of America through the Environmental Protection Agency.