Winners of the Make #NotWasting Food a Way of Life video contest announced
Watch and learn from the countless ways North Americans are tackling food waste at: www.notwasting.com
Montreal, 1 February 2017—The Commission for Environmental Cooperation (CEC) and the UN Environment North America Office have recognized entrants from across North America who demonstrated innovative, impactful and effective approaches to reducing food waste and loss:
Brianne Miller, Zero Waste Market, Vancouver, Canada
Daniel Alejandro García Rodríguez, Grupo Ambiental Ola Verde – Instituto Tecnológico de Colima, Colima, Mexico
Rick Nahmias, Bruce Woodside, Food Forward, Los Angeles, United States
Each winner has been invited to present their initiative at the inaugural North American Workshop on Food Waste Reduction and Recovery in Toronto, Canada. The conference is being hosted by the CEC and runs from February 28 to March 2, 2017.
"With over one-third of all food wasted globally, the groundswell of food waste reduction efforts underway across North America is very encouraging. Immediate action is necessary if we want to reach the Sustainable Development Goal to halve food waste globally by 2030," said Patricia Beneke, UN Environment Regional Director for North America.
"We thank everyone who shared their efforts. They are living proof that nutritious and abundant food for everyone doesn't have to come at the expense of the environment. Their efforts have tremendous impacts on their communities, help keep food out of landfills and ultimately succeed in reducing food waste in North America," said César Rafael Chávez, Executive Director, Commission for Environmental Cooperation.
The esteemed panel of North American judges who evaluated the video submissions include:
Malcolm Brodie, Chair of Canada's National Zero Waste Council and Mayor of the City of Richmond, British Columbia
Marzena Gersho, Director, Communications and National Programs, Food Banks Canada
César Rafael Chávez, Executive Director, Commission for Environmental Cooperation
Hilda Esthela Flores Escalera, Senator, Mexican Legislature
Dana Gunders, Senior Scientist, Food and Agriculture Program, National Resources Defense Council
Patricia Beneke, Regional Director, UN Environment North America Office
The judges would also like to recognize those videos that deserve honorable mention, due to their excellent portrayal of the food waste and recovery issue in North America:
National Zero Waste Council, Canada
La Tablée des Chefs, Canada
Unilever, Mexico
"Uso de Lactosuero", Mexico
Foodfully App, United States
John Green Elementary School, United States
To view all videos and for more information on the Make #NotWasting Food a Way of Life contest, visit www.notwasting.com. For more information on the CEC's North American Initiative on Food Waste Reduction and Recovery and its upcoming workshop, visit www.cec.org/FoodWasteWorkshop.
Follow UN Environment on Facebook (www.facebook.com/RONA.UNEP) and Twitter (@UNEPRONA).
Follow the Commission for Environmental Cooperation on Facebook (www.facebook.com/CECconnect) and Twitter (@CECweb).
Contacts:
Megan Ainscow, Acting Manager, Communications, CEC:
(514) 350-4372
mainscow@cec.org
Laura Fuller, Information Officer, UN Environment:
(202) 974-1305
laura.fuller@unep.org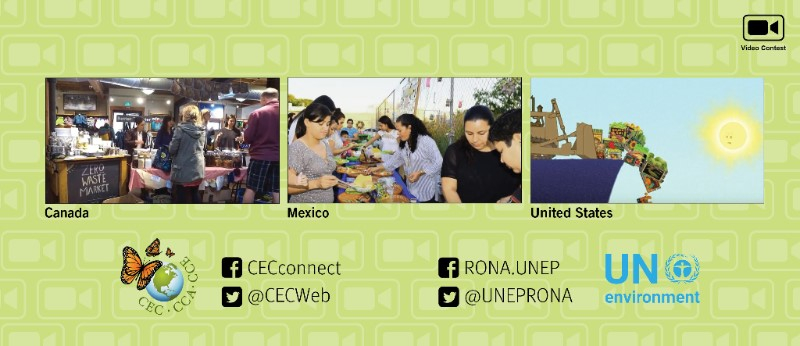 About the CEC
The Commission for Environmental Cooperation (CEC) was established in 1994 by the governments of Canada, Mexico and the United States through the North American Agreement on Environmental Cooperation, a parallel environmental agreement to NAFTA. As of 2020, the CEC is recognized and maintained by the Environmental Cooperation Agreement, in parallel with the new Free Trade Agreement of North America. The CEC brings together a wide range of stakeholders, including the general public, Indigenous people, youth, nongovernmental organizations, academia, and the business sector, to seek solutions to protect North America's shared environment while supporting sustainable development for the benefit of present and future generations
The CEC is governed and funded equally by the Government of Canada through Environment and Climate Change Canada, the Government of the United States of Mexico through the Secretaría de Medio Ambiente y Recursos Naturales, and the Government of the United States of America through the Environmental Protection Agency.