»
»
»
Winners of the CEC Youth Innovation Challenge Announced
Winners of the CEC Youth Innovation Challenge Announced
North American youth receive C$5,000 in seed funding and head to Charlottetown, PEI, to present their winning innovations
Montreal, 20 June 2017—After over 160 submitted ideas, 2,700 comments and 9,000 votes, the results are in! The Commission for Environmental Cooperation (CEC) congratulates the three winning project teams of the CEC Youth Innovation Challenge:
Vanessa Fiore and Adam Wali, Canada: Small Scale Waste to Energy
Ernesto Alonso, Tilo Daniel Hernández Cadena and José Luis Hernández García, Mexico: ROCAPET – Sustainable Structural Concrete
Kristian Krugman and Reyanne Mustafa, United States: Restaurant Waste to Superfood Powder
The CEC thanks all those who participated in the continent-wide challenge. The level of creativity, engagement and environmental awareness among participating North American youth provides inspiration and hope for achieving sustainable green growth across the continent.
The CEC Youth Innovation Challenge was held in the lead-up to the 2017 CEC Council Session to be held on June 27-28 in Charlottetown, Prince Edward Island, Canada. Be sure to tune in on June 28 at 2 p.m. ADT, as Vanessa, Adam, Ernesto and Kristian join North America's top environmental officials and share their winning innovations via live webcast.
To participate in the Challenge, North American youth, aged 18-26, were asked to submit their innovative science, technology and business solutions for tackling the urgent and complex sustainability challenges currently facing North America. Their ideas were then crowdsourced—a process whereby submitters refined their ideas based on feedback and comments from a community of over 1,100 North American youth registered on the platform.
Over 160 ideas were ultimately evaluated by the CEC Joint Public Advisory Committee and nine semifinalists were invited to develop their innovative ideas into full proposals. The winners were then selected by a panel of judges consisting of government officials from Canada, Mexico and the United States.
The three winning teams will each receive:
C$5,000 in seed funding to get their innovative idea off the ground
The opportunity to present their winning innovation live at the 2017 CEC Council Session in Charlottetown, Prince Edward Island, on June 28
The six semifinalists are:
Eric Little, Tavis Knox and David Blackstock, Canada, Kaska Dena Solar Project – A Diesel Dependent Arctic
Caroline Kamm, Canada, Fresh Data App
Jaqueline Peraza Cárdenas, Mexico, Microalgae-based Biodiesel,
César Asensy Maldonado Monter, Mexico, Mexican-Canadian Technology to Reverse Climate Change from Rural Kitchens
Dejah Powell, United States, Bike for Waste
Ken Johnston, Skyelar Habberfield and Kristen Mooney, United States, Biomass to Biofuel: Lake George's Solution to Invasive Species
Follow the CEC on Facebook (www.facebook.org/CECconnect) and Twitter (@CECweb) for updates on the Council Session and to ask questions or share your thoughts about North American environmental cooperation.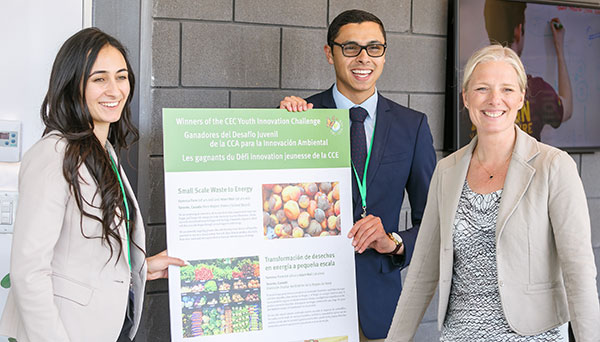 About the CEC
The Commission for Environmental Cooperation (CEC) was established in 1994 by the governments of Canada, Mexico and the United States through the North American Agreement on Environmental Cooperation, a parallel environmental agreement to NAFTA. As of 2020, the CEC is recognized and maintained by the Environmental Cooperation Agreement, in parallel with the new Free Trade Agreement of North America. The CEC brings together a wide range of stakeholders, including the general public, Indigenous people, youth, nongovernmental organizations, academia, and the business sector, to seek solutions to protect North America's shared environment while supporting sustainable development for the benefit of present and future generations
The CEC is governed and funded equally by the Government of Canada through Environment and Climate Change Canada, the Government of the United States of Mexico through the Secretaría de Medio Ambiente y Recursos Naturales, and the Government of the United States of America through the Environmental Protection Agency.