»
»
»
Winners of the 2018 CEC Youth Innovation Challenge Announced
Winners of the 2018 CEC Youth Innovation Challenge Announced
Selected from over 200 participants, the winners will present their groundbreaking ideas to CEC Council and receive C$5,000 in seed funding
Montreal, 31 May 2018—The Commission for Environmental Cooperation (CEC) is pleased to announce the winners of the second Youth Innovation Challenge:
Lauren Smith and Nicole Balliston, Canada: Stop eating your dirty laundry – Our solution to microplastic pollution
César Asensy Maldonado Monter, José Luis Ortiz Robles, and Héctor José Garrido Rosales, Mexico: Management of wastewater and organic waste with the use of insects
Nima ShahabShahmir, United States: Future Fungi – An environmental solution to plastic issue
The CEC Youth Innovation Challenge invites and rewards innovative technology, science, and business ideas by North American youth, to advance sustainability and green growth.
"I congratulate the winners and applaud all the outstanding students and entrepreneurs who participated," said Scott Pruitt, Administrator of the US Environmental Protection Agency and CEC Council Chair. "The Youth Innovation Challenge encourages the next generation of leaders to apply their knowledge and creativity to solving real-world environmental challenges. I hope all the participants will continue to develop and advance technologies that improve public health and the environment."
The Youth Innovation Challenge was held ahead of the 2018 CEC Council Session, taking place on June 26-27 in Oklahoma City, Oklahoma, United States. Be sure to tune in to our live webcast on June 27 at 4 p.m. (Central Time), as the winners present their projects to North America's top environmental officials.
The Challenge was open to North American students and young entrepreneurs, ages 18-30, who submitted their innovative solutions for improving both the environment and the economy in North America. Their ideas were crowdsourced—enabling submitters to capitalize on feedback from over 2,900 North American youth registered on the crowdsourcing platform. Over 200 ideas were evaluated by the CEC Idea Evaluation Panel and CEC experts, and nine semifinalists were selected to develop their ideas into full proposals. Winners were selected by the CEC Council.
Follow the CEC on Facebook and Twitter for updates on the Council Session and to ask questions or share your thoughts about North American environmental cooperation.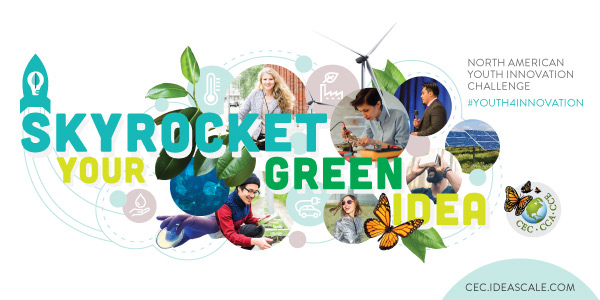 About the CEC
The Commission for Environmental Cooperation (CEC) was established in 1994 by the governments of Canada, Mexico and the United States through the North American Agreement on Environmental Cooperation, a parallel environmental agreement to NAFTA. As of 2020, the CEC is recognized and maintained by the Environmental Cooperation Agreement, in parallel with the new Free Trade Agreement of North America. The CEC brings together a wide range of stakeholders, including the general public, Indigenous people, youth, nongovernmental organizations, academia, and the business sector, to seek solutions to protect North America's shared environment while supporting sustainable development for the benefit of present and future generations
The CEC is governed and funded equally by the Government of Canada through Environment and Climate Change Canada, the Government of the United States of Mexico through the Secretaría de Medio Ambiente y Recursos Naturales, and the Government of the United States of America through the Environmental Protection Agency.