»
»
»
Winners of 2022 CEC Youth Innovation Challenge Announced
Winners of 2022 CEC Youth Innovation Challenge Announced
Montreal, 22 June 2022 — The Commission for Environmental Cooperation (CEC) is proud to announce the winners of the sixth annual Youth Innovation Challenge (YIC), selected from among more than 100 submissions from Canada, Mexico and the United States. This year, three winners were selected for their innovative and impactful solutions that aim to help creative young leaders promote transformative community solutions in the recovery from the COVID-19 pandemic.
The 2022 CEC Youth Innovation Challenge winners are:
Inscott
Jérémy Lavoie, Mariève Dallaire-Lamontagne, and Jean-Michel Allard-Prus
Canada
Economía Circular: Del Puerto al Huerto
Rodrigo Trejo
Mexico
Grandma's Hands
Kyra Trent and Tameira Shepherd
United States
"Each year we have the honor of selecting and supporting inspiring young entrepreneurs who have dedicated their efforts to building innovative solutions that address some of today's most challenging environmental and social issues," said Richard A. Morgan, CEC Executive Director. "I would like to congratulate this year's winners and thank each participant for their efforts to uplift communities and protect our shared environment as we recover from the impacts of the COVID-19 pandemic."
The 2022 Youth Innovation Challenge invited North American youth, aged 18 to 30, to propose innovative, tangible, and youth-driven solutions to assist communities in their recovery from the COVID-19 pandemic and address the intersection between human health and the environment. Under this theme, young entrepreneurs from across Canada, Mexico and the United States submitted solutions on topics ranging from mental health and social connection to food waste and environmental education. The submissions were evaluated by a panel of North American experts and government representatives and the winners selected will receive up to fifteen thousand (C$15,000) Canadian dollars in seed funding and a year-long mentorship to assist in the further development of their entrepreneurial innovations.
"For six years, the CEC Youth Innovation Challenge has elevated the voices of inspiring young entrepreneurs who are dedicated to making change through innovation. Each submission offers a unique window into the experiences and perspectives of diverse communities across North America that face a range of increasingly complex social, economic, and environmental challenges," said Georgina O'Farrill, Outreach and Partnerships Officer at the CEC. "Being witness to the creative ways in which young people seek to address these issues is intriguing and motivating, and we are honored to support this important work."
The winners of the CEC Youth Innovation Challenge have been invited to join North America's top environmental officials to present their solutions at the annual Regular Session of the CEC Council. Be sure to tune in virtually to this year's Council Session (#CEC29), which will take place in Mérida, Mexico on 14 and 15 July 2022. The 2022 winners will present their solutions via live webcast on 15 July at 3:00 p.m. Central Time. You can register here.
For more information, you can visit the Youth Initiatives section on our website and sign up for our newsletter.
Follow us on Facebook, Twitter, Instagram and LinkedIn and be part of the conversation, using #Youth4Innovation and #CEC29.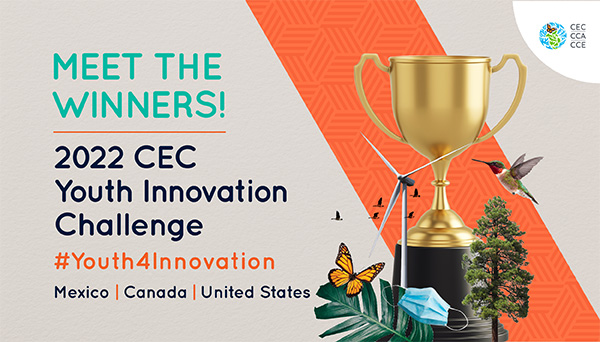 About the CEC
The Commission for Environmental Cooperation (CEC) was established in 1994 by the governments of Canada, Mexico and the United States through the North American Agreement on Environmental Cooperation, a parallel environmental agreement to NAFTA. As of 2020, the CEC is recognized and maintained by the Environmental Cooperation Agreement, in parallel with the new Free Trade Agreement of North America. The CEC brings together a wide range of stakeholders, including the general public, Indigenous people, youth, nongovernmental organizations, academia, and the business sector, to seek solutions to protect North America's shared environment while supporting sustainable development for the benefit of present and future generations
The CEC is governed and funded equally by the Government of Canada through Environment and Climate Change Canada, the Government of the United States of Mexico through the Secretaría de Medio Ambiente y Recursos Naturales, and the Government of the United States of America through the Environmental Protection Agency.