»
»
»
Tell us how you think North America can advance innovation in clean ener...
Tell us how you think North America can advance innovation in clean energy and energy efficiency
Montreal, 25 October 2016—On 7 November, the Commission for Environmental Cooperation's (CEC) Joint Public Advisory Committee (JPAC) will host a public meeting in Ottawa, Ontario, Canada, on the connections between innovation in clean energy and energy efficiency, in the context of addressing climate change at a continental level.
The forum will also be webcast in English, French and Spanish at www.cec.org/webcast and transmitted live on our Facebook page. Participation at the JPAC forum is open to the public and free of charge.
Speakers and participants will address specific questions, such as:
What are the current North American approaches to clean energy generation and consumption?
How can we ensure that new energy-saving and energy-efficient technologies are adaptable to the different realities of communities across the continent?
Why is energy conservation more important than ever?
Scheduled speakers to date include:
Elizabeth McDonald, President & CEO, Canadian Energy Efficiency Alliance
Carlos Ortiz Gómez, Director General for Research and Human Resources Formation, Ministry of Energy, Mexico
Graziella Siciliano, US Coordinator of the CEM's Energy Management Working Group, US Department of Energy
The afternoon public session will feature a "lightning round" on new research and potential policy related to clean-energy technology and energy conservation.
To enhance the discussion, JPAC invites experts from industry, academia and government to submit a video or a proposal of their current research or policy recommendations in preparation for the session. Submissions will be posted on the CEC website and presented at the meeting.
For more information, visit www.cec.org/JPACOttawa.
Follow the CEC on Facebook at www.facebook.org/CECconnect and on Twitter @CECweb.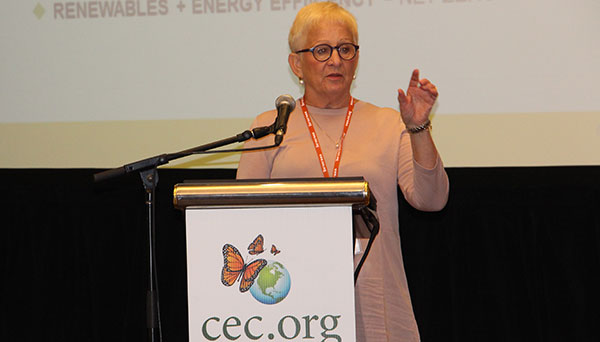 About the CEC
The Commission for Environmental Cooperation (CEC) was established in 1994 by the governments of Canada, Mexico and the United States through the North American Agreement on Environmental Cooperation, a parallel environmental agreement to NAFTA. As of 2020, the CEC is recognized and maintained by the Environmental Cooperation Agreement, in parallel with the new Free Trade Agreement of North America. The CEC brings together a wide range of stakeholders, including the general public, Indigenous people, youth, nongovernmental organizations, academia, and the business sector, to seek solutions to protect North America's shared environment while supporting sustainable development for the benefit of present and future generations
The CEC is governed and funded equally by the Government of Canada through Environment and Climate Change Canada, the Government of the United States of Mexico through the Secretaría de Medio Ambiente y Recursos Naturales, and the Government of the United States of America through the Environmental Protection Agency.