»
»
»
Tell the CEC how you think biodiversity can help mitigate climate change...
Tell the CEC how you think biodiversity can help mitigate climate change in North America
Join our citizen advisory committee and climate change and biodiversity experts in a public forum on the issue
Montreal, 26 August 2016—On 8 September, the Commission for Environmental Cooperation's (CEC) Joint Public Advisory Committee (JPAC) will host a public meeting in Mérida, Yucatán, Mexico, on the interactions and interlinkages between climate change and biodiversity, from environmental and economic perspectives.
Participants will address specific questions, such as:
What can be done in North America to mainstream climate change and biodiversity interlinkages in decision-making?
What can we learn from emerging research on the role biodiversity and ecosystem services can play in adaptation to climate change in North America?
Speakers at the forum's two public morning sessions include:
Santiago Lorenzo, Global Expert, Climate Finance, WWF International
Louis Blumberg, Director, California Climate Change Program, The Nature Conservancy
Sylvie de Blois,  Associate Professor, Department of Plant Science, McGill University
The afternoon public session will feature a collaborative workshop on ecosystem-based adaptation (EbA) to climate change. In-person and online participants will be invited to provide their input through a facilitated dialogue.
To enhance the forum discussion, JPAC invites EbA experts and scholars to submit a 250-word summary of their current research to the CEC Secretariat in advance of the session. Submissions will be posted on the CEC website and distributed onsite.
The JPAC forums are being held in conjunction with the 23rd Regular Session of the CEC Council, at which Rafael Pacchiano Alamán, Mexico's Secretary of Environment and Natural Resources, will host United States Environmental Protection Agency Administrator Gina McCarthy and Canada's Environment and Climate Change Minister Catherine McKenna.
Participation at the CEC Council Session and Joint Public Advisory Committee is open to the public and free of charge.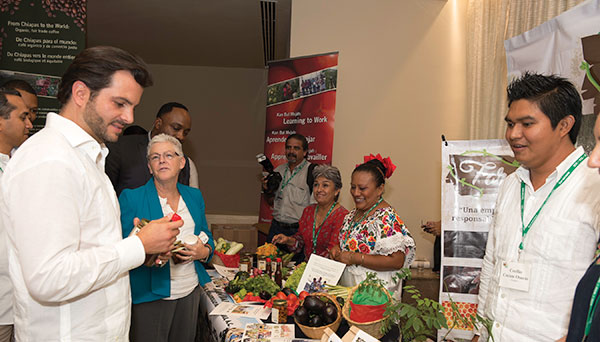 About the CEC
The Commission for Environmental Cooperation (CEC) was established in 1994 by the governments of Canada, Mexico and the United States through the North American Agreement on Environmental Cooperation, a parallel environmental agreement to NAFTA. As of 2020, the CEC is recognized and maintained by the Environmental Cooperation Agreement, in parallel with the new Free Trade Agreement of North America. The CEC brings together a wide range of stakeholders, including the general public, Indigenous people, youth, nongovernmental organizations, academia, and the business sector, to seek solutions to protect North America's shared environment while supporting sustainable development for the benefit of present and future generations
The CEC is governed and funded equally by the Government of Canada through Environment and Climate Change Canada, the Government of the United States of Mexico through the Secretaría de Medio Ambiente y Recursos Naturales, and the Government of the United States of America through the Environmental Protection Agency.