»
»
»
Submit Your Application Online Today for NAPECA Grants!
Submit Your Application Online Today for NAPECA Grants!
CEC Council announces new round of funding for community grants aimed at local environmental challenges
Montreal, 24 August 2017—The Council of the Commission for Environmental Cooperation (CEC) is pleased to announce a new Call for Proposals for community-based projects aimed at addressing environmental challenges across North America.
Local organizations and community groups are invited to apply to a US$480,000 grant cycle endorsed by the CEC Council at its 24th annual session on 28 June 2017.
Created in 2010, the North American Partnership for Environmental Community Action (NAPECA) grant program is designed to support non-profit and nongovernmental organizations in Canada, Mexico, and the United States that work with local communities to share responsibility for environmental stewardship.
For 2017–2018, the CEC Council—composed of the cabinet-level environment ministers from Canada, Mexico, and the United States—has agreed that the focus of the NAPECA proposals will be Innovation and Partnerships for Green Growth to advance environmentally responsible economic development while decreasing pressure on natural resources and promoting more sustainable patterns of production and consumption.
Grant selection criteria will ensure that projects achieve measurable objectives and produce clear and tangible results within the timeframe of NAPECA support. The criteria, along with information regarding the application process, are described in the 2017 Call for Proposals.
Selected projects will be funded up to a total amount of US$53,000 for a maximum period of 12 months. The due date for submitting proposals is 22 September 2017.
Don't miss this opportunity to give your environmental project the momentum it needs! Visit the NAPECA webpage and register to submit your application online.
To learn more about past grant recipients, explore the CEC's new interactive map of NAPECA projects.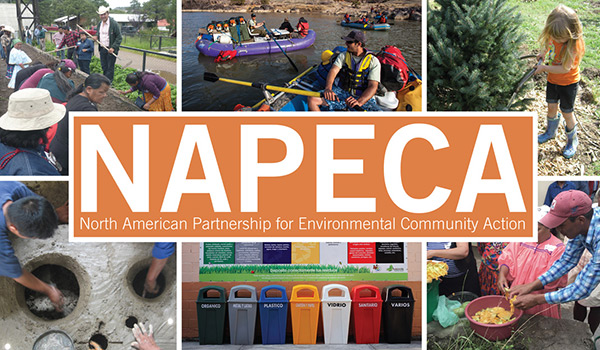 About the CEC
The Commission for Environmental Cooperation (CEC) was established in 1994 by the governments of Canada, Mexico and the United States through the North American Agreement on Environmental Cooperation, a parallel environmental agreement to NAFTA. As of 2020, the CEC is recognized and maintained by the Environmental Cooperation Agreement, in parallel with the new Free Trade Agreement of North America. The CEC brings together a wide range of stakeholders, including the general public, Indigenous people, youth, nongovernmental organizations, academia, and the business sector, to seek solutions to protect North America's shared environment while supporting sustainable development for the benefit of present and future generations
The CEC is governed and funded equally by the Government of Canada through Environment and Climate Change Canada, the Government of the United States of Mexico through the Secretaría de Medio Ambiente y Recursos Naturales, and the Government of the United States of America through the Environmental Protection Agency.