»
»
»
Send us your ideas for promoting renewables and conserving energy in Nor...
Send us your ideas for promoting renewables and conserving energy in North America
Submit a video or proposal for the CEC advisory committee's "lightning round" on new research and potential policy related to clean energy technology and energy conservation
Montreal, 18 October 2016—Whether you are a start-up, large corporation, student, NGO or committed citizen, the Commission for Environmental Cooperation's Joint Public Advisory Committee would like to hear more about your cutting-edge technology and policy ideas for promoting renewables and conserving energy in North America.
Both aspects are crucial: while clean energy generation and transmission make up a large piece of the puzzle, without conservation efforts, clean energy alternatives remain constrained by the need to store energy for periods of high demand. This 'lightning round' will showcase emerging solutions and research to identify areas of collaboration across the continent and ensure greater clean energy use by more consumers (both citizens and industry), while allowing them to reduce their carbon footprint.
Send us a 500-word description or two-minute video of your current research or policy recommendation.
To submit your idea or proposal in video or word document format, visit www.cec.org/energysolutions
Submitters will get the chance to present their ideas virtually or in-person during a one hour "lightning round" at JPAC's upcoming meeting Advancing Sustainable Clean Energy Cooperation in North America to be held in Ottawa on November 7, 2016.
To view the full meeting agenda or attend in person, visit www.cec.org/JPACOttawa
The meeting is free and open to the public
Ideas and solutions submitted on renewables and energy conservation will inform the CEC Joint Public Advisory Committee's upcoming official advice to the CEC Council.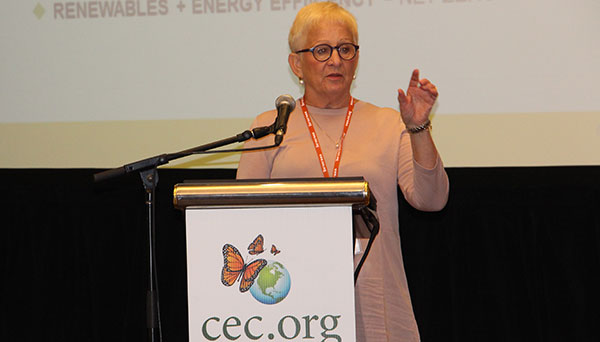 About the CEC
The Commission for Environmental Cooperation (CEC) was established in 1994 by the governments of Canada, Mexico and the United States through the North American Agreement on Environmental Cooperation, a parallel environmental agreement to NAFTA. As of 2020, the CEC is recognized and maintained by the Environmental Cooperation Agreement, in parallel with the new Free Trade Agreement of North America. The CEC brings together a wide range of stakeholders, including the general public, Indigenous people, youth, nongovernmental organizations, academia, and the business sector, to seek solutions to protect North America's shared environment while supporting sustainable development for the benefit of present and future generations
The CEC is governed and funded equally by the Government of Canada through Environment and Climate Change Canada, the Government of the United States of Mexico through the Secretaría de Medio Ambiente y Recursos Naturales, and the Government of the United States of America through the Environmental Protection Agency.