»
»
»
See our October 24 agenda and join us for the JPAC public forum on disas...
See our October 24 agenda and join us for the JPAC public forum on disaster resilience in Puerto Rico!
Montreal, 16 October 2019—In just one week, the Commission for Environmental Cooperation's Joint Public Advisory Committee will be hosting its first-ever meeting in San Juan, Puerto Rico. This public forum will feature the lived experiences of people from cities, remote and coastal communities and Indigenous nations who have faced climate emergencies, and will capture their efforts toward building disaster resilience.
Here are some highlights from the agenda for Community-based Approaches to Disaster Resilience:
⇨ Keynote Presentations
Antonio Pavia, Chief Legal Counsel, Central Office for Recovery, Reconstruction and Resiliency (COR3) of Puerto Rico
Carmen Guerrero Pérez, Director, Caribbean Environmental Protection Division, US Environmental Protection Agency
⇨ Roundtable Discussion 1 – Understanding Impact: When regions are struck by disasters
Natasha Vázquez Pérez, Director of Federal Programs, Municipality of Cayey
Leslie Maas Cortés, Director, Hurricane Response Hub Technical Assistance Center for Puerto Rico (PR-HRHTAC)
Juan Javier Rivera, Leader of Special Projects, Community Foundation of Puerto Rico (Fundación Comunitaria de Puerto Rico)
Carmen Villanueva, Community Leader, PRODEV (Puerto Rico por el Derecho a una Vivienda Digna)
⇨ Roundtable Discussion 2 – Hardship and Resilience: Stories from affected communities
Miles G. Richardson, Director, National Consortium for Indigenous Economic Development, University of Victoria
Carmen Hernández, Co-Founder and Administrative Director, Isla Urbana
Verlon Jose, Former Vice Chairman, Tohono O'odham Nation
Dean Jacobs, Consultation Manager, External Projects Program, Walpole Island First Nation
⇨ Open Session with the Public (Participants in-person and online) – The Lived Experience: Responding to crisis, and building perseverance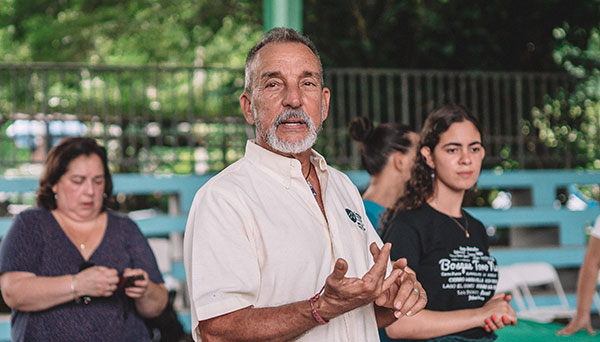 About the CEC
The Commission for Environmental Cooperation (CEC) was established in 1994 by the governments of Canada, Mexico and the United States through the North American Agreement on Environmental Cooperation, a parallel environmental agreement to NAFTA. As of 2020, the CEC is recognized and maintained by the Environmental Cooperation Agreement, in parallel with the new Free Trade Agreement of North America. The CEC brings together a wide range of stakeholders, including the general public, Indigenous people, youth, nongovernmental organizations, academia, and the business sector, to seek solutions to protect North America's shared environment while supporting sustainable development for the benefit of present and future generations
The CEC is governed and funded equally by the Government of Canada through Environment and Climate Change Canada, the Government of the United States of Mexico through the Secretaría de Medio Ambiente y Recursos Naturales, and the Government of the United States of America through the Environmental Protection Agency.