»
»
»
REGISTER NOW: Join experts from across the continent for a free public f...
REGISTER NOW: Join experts from across the continent for a free public forum on greening freight transportation
Participate in person with the CEC's advisory committee and experts in Long Beach, California, or join the conversation online
Montreal, 18 November 2016—Join the Joint Public Advisory Committee (JPAC) of the Commission for Environmental Cooperation (CEC) on December 12 in Long Beach, California, for a public meeting on Greening Freight Operations across North America.
Register today to participate in person or online at www.cec.org/JPACalifornia.
In all three North American countries, the transportation sector represents the second-largest source of greenhouse gas (GHG) emissions. Freight transportation networks throughout the continent are also closely interconnected, often resulting in congestion issues near ports and border crossings.
Building on the momentum of the Leaders' Statement on a North American Climate, Clean Energy, and Environment Partnership, this JPAC forum will look at how to facilitate continental trade and economic growth while lowering freight-related GHG emissions over the long-term.
The forum will bring together experts from port authorities, government agencies, and industry, as well as members of the wider public, to identify new opportunities for creating an integrated, competitive, sustainable freight transportation system in North America, with a special focus on ports.
Participation at the JPAC public forum is open to the public and free of charge. Simultaneous interpretation will be provided in English, French and Spanish.
Take part in the discussion online
You can watch the CEC's JPAC forum live on our Facebook page or at www.cec.org/webcast, and participate in the discussion on greening freight operations across North America in three ways:
Register here to receive a webcast reminder the morning of the event.
To view the full agenda and learn more about the JPAC, visit www.cec.org/JPACalifornia.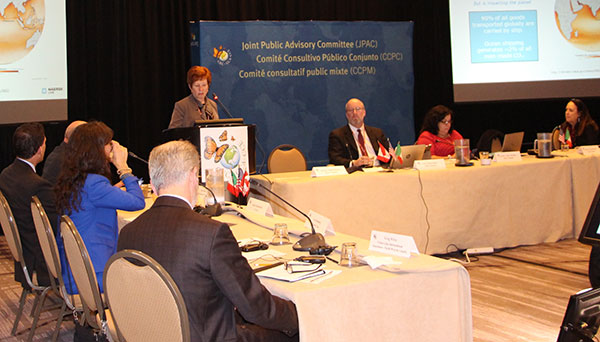 About the CEC
The Commission for Environmental Cooperation (CEC) was established in 1994 by the governments of Canada, Mexico and the United States through the North American Agreement on Environmental Cooperation, a parallel environmental agreement to NAFTA. As of 2020, the CEC is recognized and maintained by the Environmental Cooperation Agreement, in parallel with the new Free Trade Agreement of North America. The CEC brings together a wide range of stakeholders, including the general public, Indigenous people, youth, nongovernmental organizations, academia, and the business sector, to seek solutions to protect North America's shared environment while supporting sustainable development for the benefit of present and future generations
The CEC is governed and funded equally by the Government of Canada through Environment and Climate Change Canada, the Government of the United States of Mexico through the Secretaría de Medio Ambiente y Recursos Naturales, and the Government of the United States of America through the Environmental Protection Agency.