NAPECA Grant Recipients Announced by Commission for Environmental Cooperation
Eleven community-based environmental initiatives across North America will receive funding for adaptation to extreme events
Montreal, 13 November 2019—Today, the Commission for Environmental Cooperation (CEC) announced the 2019–2020 North American Partnership for Environmental Community Action (NAPECA) grant recipients. The following innovative, community-based projects addressing adaptation to extreme events will receive funding:
| | | | |
| --- | --- | --- | --- |
| | Project Title | Organization | Location |
| 1 | Mi'kmaw Wildfire Resilience Initiative | The Confederacy of Mainland Mi'kmaq | Eight Mi'kmaw communities in Nova Scotia, Canada |
| 2 | Planning for Resilient Smart Energy Communities in Alberta | QUEST | Five communities in Alberta, Canada |
| 3 | Working with the Community to Reduce Vulnerability to Flooding in the Richelieu River Basin | Nature Conservancy Canada | Henryville, Saint-Georges-de-Clarenceville, Venise-en-Québec, Saint-Sébastien, Montérégie, Quebec, Canada |
| 4 | Building Community Climate Change Knowledge and Resilience in Older Adults and Immigrants | University of Alberta, Research Services Office | Edmonton, Alberta, Canada |
| 5 | Community-level Integrated Landscape Management Networks for Climate Resilience | Foro para el Desarrollo Sustentable, A.C. | El Palmar, Trembladeras, El Faisan en Centla, Tabasco, Mexico & Las Merceditas, Constitucion Ciutalapa, Francisco I. Madero, Chiapas, Mexico |
| 6 | Capacity Building to Reduce Climate Change Vulnerability in the Usumacinta River Basin (Tabasco, Mexico) | Espacios Naturales y Desarrollo Sustentable, A.C. | Centla, Jonuta, Macuspana & Tenosique, Tabasco, Mexico |
| 7 | Actions to Mitigate Drought Effects in Agriculture and Reduce Disaster Risk in the State of Puebla | Central de Servicios para el Desarrollo de Puebla, A.C. | Pahuatlán y Molcaxac, Puebla, Mexico |
| 8 | Developing a Local Strategy to Encourage Shool and Community Level Adaptation and Management of Disaster Risk and Vulnerabilities | Género y Flor de Maíz | Sierra sur de Oaxaca, Oaxaca, Mexico |
| 9 | Maricopa Coalition on Climate Change and Public Health: Extreme Heat | Institute for Sustainable Communities | Maricopa & Pinal Counties, Arizona, United States |
| 10 | Community Solar Hub Drive | Resilient Power Puerto Rico | Utuado, Jayuya, Aibonito, Caguas & San Juan, Puerto Rico, United States |
| 11 | Natural Infrastructure Restoration to Enhance Climate Resilience in Puerto Rico | The Ocean Foundation | Salinas, Guayama, Puerto Rico, United States |
"We are proud to support local entities across North America that are taking a novel approach to an urgent issue that affects us all. Action at the community level will complement the ongoing work on preparedness and resilience to extreme events that the CEC is undertaking at the trilateral level. We sincerely thank all those who applied to the North American Partnership for Environmental Community Action this year," said Richard Morgan, Executive Director, Commission for Environmental Cooperation.
The CEC's NAPECA grant program supports non-profit and nongovernmental entities in Canada, Mexico and the United States that work closely with local and indigenous communities to improve environmental conditions at the local level. "Helping Your Community Adapt to Extreme Events" was selected by CEC Council members as the focus for the current NAPECA grant cycle in order to expand the impact of CEC efforts in helping North America better cope with the effects of extreme events. Each of these initiatives focuses on enhancing the capacity of communities to prepare for, and respond and adapt to extreme events, such as drought, floods, wildfires and extreme temperatures.
Work on the selected projects will begin in November 2019 and end in November 2020. The NAPECA selection committee chose eleven final projects from over 200 proposals. The selected projects meet the Council's strategic objectives for this program to support model environmental initiatives that will help build long-term partnerships and promote a shared responsibility and stewardship for the environment. Each selected project includes: active community involvement, an emphasis on promoting partnerships, a sound implementation plan, and measurable objectives that can be achieved within the project life cycle.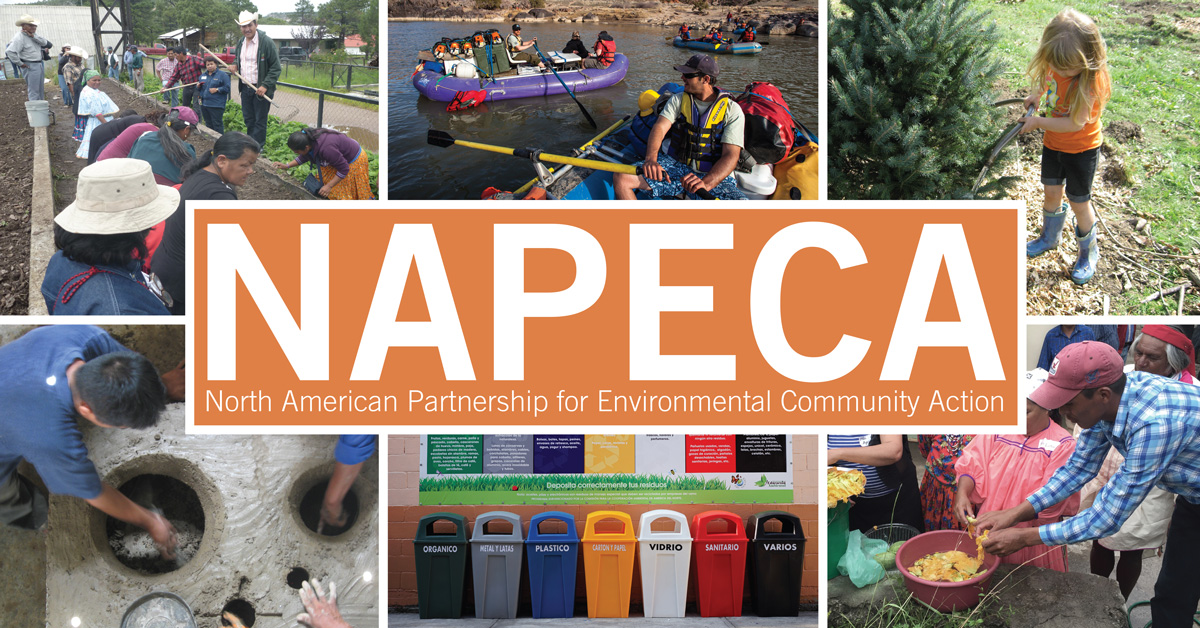 About the CEC
The Commission for Environmental Cooperation (CEC) was established in 1994 by the governments of Canada, Mexico and the United States through the North American Agreement on Environmental Cooperation, a parallel environmental agreement to NAFTA. As of 2020, the CEC is recognized and maintained by the Environmental Cooperation Agreement, in parallel with the new Free Trade Agreement of North America. The CEC brings together a wide range of stakeholders, including the general public, Indigenous people, youth, nongovernmental organizations, academia, and the business sector, to seek solutions to protect North America's shared environment while supporting sustainable development for the benefit of present and future generations
The CEC is governed and funded equally by the Government of Canada through Environment and Climate Change Canada, the Government of the United States of Mexico through the Secretaría de Medio Ambiente y Recursos Naturales, and the Government of the United States of America through the Environmental Protection Agency.