»
»
»
Meet the experts who will evaluate North America's most promising ...
Meet the experts who will evaluate North America's most promising green ideas
Idea evaluation panel announced for the 2018 CEC Youth Innovation Challenge
Montreal, 13 February 2018—Nine experts on the frontier of sustainable innovation in North America will serve on the idea evaluation panel for the 2018 Commission for Environmental Cooperation (CEC) Youth Innovation Challenge. With backgrounds in startup ventures, corporate sustainability, academic collaboration and technical know-how, these experts will bring diverse perspectives and expertise to identify this year's semifinalists of the Challenge.
The CEC Youth Innovation Challenge invites the creativity of college and university students and young entrepreneurs through bold and innovative ideas in technology, science and business that can advance green growth in North America. The Challenge is open to residents of Canada, Mexico and the United States (and its territories), aged 18-30.
Here are the panelists—three from each country—who will be reviewing this year's ideas:
Meredith Adler is a CEC Joint Public Advisory Committee (JPAC) member and the Executive Director of Student Energy, an organization devoted to developing youth's capacity to be change agents in the energy system.
Dr. Luis Aguirre-Torres is founder and CEO of Green Momentum, a company that specializes in the development of breakthrough clean technologies in Latin America.
David Martínez Biro is an industrial engineer, JPAC member and CEO of CONSUS (Conciencia Sustentable), a company developing small and large-scale photovoltaic projects.
Dr. Amelia Clarke is director of the Master of Environment and Business (MEB) program at the University of Waterloo (Ontario) and an associate professorwith expertise in community sustainable development strategies, corporate social and environmental responsibility, and youth and innovation.
Dr. Carmela Cucuzzella is an associate professor in Design and Computation Arts at Concordia University, and research chair in Integrated Design, Ecology, and Sustainability for the Built Environment (IDEAS-BE).
Yusef Jacobs Kuri is an engineer and entrepreneur—the founder and CEO of Vitaluz—who specializes in developing sustainable technology for communities in need.
Christina Page has extensive experience in the corporate sustainability sector, as former Director of Energy and Environment at Amazon and Global Director of Energy and Sustainability Strategy at Yahoo.
Robert Varney, JPAC member, is a former state Environmental Commissioner and EPA Regional Administrator, and the current President of Normandeau Associates, a science-based environmental consulting firm.
Zach Weismann is a tech industry and startup venture expert and the founder and CEO of CancerQ, a healthtech start-up that builds innovative products and services for families facing cancer.
The deadline to submit ideas on the platform is April 3, after which the idea evaluation panel will select the top nine ideas to be developed into full proposals. For more details, visit cec.ideascale.com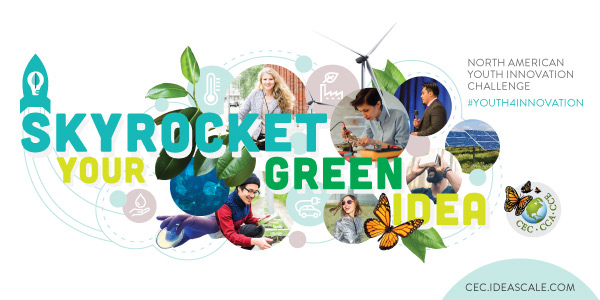 About the CEC
The Commission for Environmental Cooperation (CEC) was established in 1994 by the governments of Canada, Mexico and the United States through the North American Agreement on Environmental Cooperation, a parallel environmental agreement to NAFTA. As of 2020, the CEC is recognized and maintained by the Environmental Cooperation Agreement, in parallel with the new Free Trade Agreement of North America. The CEC brings together a wide range of stakeholders, including the general public, Indigenous people, youth, nongovernmental organizations, academia, and the business sector, to seek solutions to protect North America's shared environment while supporting sustainable development for the benefit of present and future generations
The CEC is governed and funded equally by the Government of Canada through Environment and Climate Change Canada, the Government of the United States of Mexico through the Secretaría de Medio Ambiente y Recursos Naturales, and the Government of the United States of America through the Environmental Protection Agency.