»
»
»
Join CEC advisory committee meeting on reducing food and organic waste s...
Join CEC advisory committee meeting on reducing food and organic waste streams
Registration now open:  Come to Tuxtla Gutiérrez, Chiapas, Mexico, or join via live webcast
Montreal, 3 February 2017—On 23 March 2017, the CEC's Joint Public Advisory Committee invites you to join their public meeting, virtually or in-person, to discuss challenges and opportunities for Reducing and managing food and organic waste streams in North America.
Canada, Mexico and the United States produce an immense and increasing amount of food waste, intensifying the impacts of agricultural production, taxing food delivery systems, and increasing the release of methane gas—a greenhouse gas that is over 20 times more potent than carbon dioxide.
Here are some quick statistics on food waste in North America:
In 2012, organic waste accounted for about 63% of municipal solid waste disposed in landfills in the United States.
In Canada, approximately 33 million tons of residential and non-residential waste were generated in 2010, of which about 76% was disposed of, mostly in landfills, while only about 16% was diverted to productive use.
In Mexico in 2011, about 5% of the total waste stream was directed to recycling or composting, with the remaining 95% of the waste stream disposed in landfills.
Register today to participate in the discussion about this vital topic and about best practices and emerging technologies to address food waste, such as anaerobic digestion, composting, and landfill methane capture. Participants will also analyze current efforts to reduce food waste by North American industrial, commercial and institutional sectors, and participate in a roundtable on overcoming legal and policy barriers.
All feedback received will inform JPAC's official advice to the CEC Council on reducing and managing food and organic waste streams in North America.
The JPAC meeting is open to the public and free of charge! View the full agenda online at www.cec.org/JPACTuxtla.
Participate online
Use the hashtag #JPACTuxtla and watch on Facebook Live (www.facebook/cecconnect) or at www.cec.org/webcast, where you can submit questions and send comments to the moderator.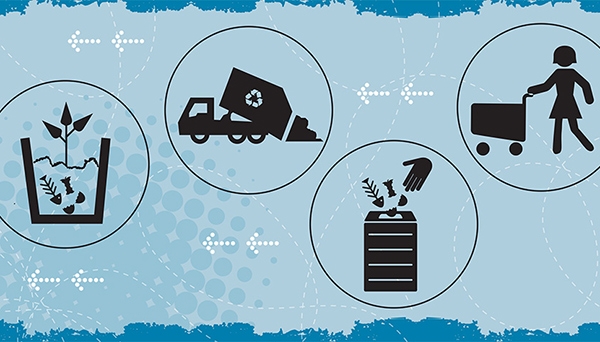 About the CEC
The Commission for Environmental Cooperation (CEC) was established in 1994 by the governments of Canada, Mexico and the United States through the North American Agreement on Environmental Cooperation, a parallel environmental agreement to NAFTA. As of 2020, the CEC is recognized and maintained by the Environmental Cooperation Agreement, in parallel with the new Free Trade Agreement of North America. The CEC brings together a wide range of stakeholders, including the general public, Indigenous people, youth, nongovernmental organizations, academia, and the business sector, to seek solutions to protect North America's shared environment while supporting sustainable development for the benefit of present and future generations
The CEC is governed and funded equally by the Government of Canada through Environment and Climate Change Canada, the Government of the United States of Mexico through the Secretaría de Medio Ambiente y Recursos Naturales, and the Government of the United States of America through the Environmental Protection Agency.